Adele's first live concert in three years has now been broadcast, showing the singer becoming visibly overcome with emotion on stage.
READ MORE:
The chart-topping singer - whose most recent album '25' has broken records all over the world - took to the stage for a one-off show at New York's Radio City Music Hall last month, which was finally broadcast in America on Monday night.
Towards the end of the show, Adele was so overwhelmed by the audience's reaction that she began to cry, admitting that she wasn't prepared for such a warm welcome.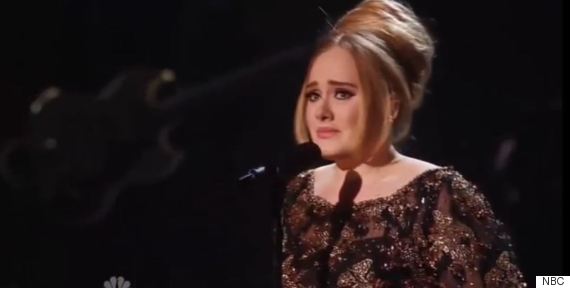 Adele
She told the audience, after a performance of her latest single, 'When We Were Young': "Oh, I'm so relieved. I've honestly missed you all so much. I know I've been quiet. I just wanted to comeback and surprise you.
"I thought I did quite well not crying until now."
In addition to her new material, Adele performed her signature hits like 'Skyfall', 'Rolling In The Deep' and 'Someone Like You', the latter of which she says holds new meaning for her now she's in a new, happier relationship.
She said: "I don't sing this from the same place any more. I sing it from an amazing place because of my man who is here tonight, and I love you - and this is the first show that he's ever seen me do!"
Over the weekend, Adele gave a typically stirring rendition of her track, 'Hello', during 'The X Factor' final, having previously unveiled the song for the first time during an ad break on the talent show.
She's due to head on her first tour in half a decade next year, which will see her play at arenas all over Europe, before heading over to North America.
LIKE US ON FACEBOOK | FOLLOW US ON TWITTER