A toddler has impressed the internet with his cappuccino-making skills at only three years old.
Andrew and Jenn Webb, the owners of a coffee shop - Bindle Coffee - in Colorado, have taught their son Adler how to make a cappuccino.
A regular customer filmed Adler making a decaf cappuccino and it's fair to say he's possibly the cutest barista we've ever seen.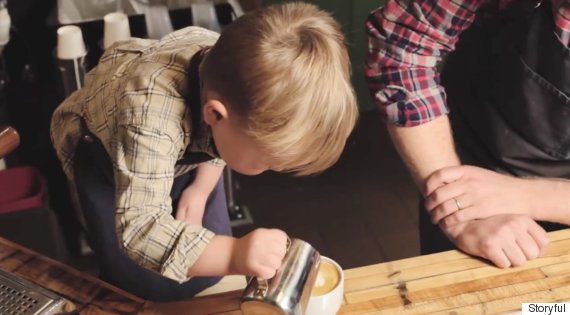 Alder makes a "really, really good" cappuccino
The video has been viewed more than 1.3 million times after being shared on Storyful's Facebook page.
Thousands of people have commented how cute Adler is, many wanting him to make them a coffee.
"Adler's been fascinated by coffee pretty much ever since he was born," Andrew Webb told Beanhunter.
"When he started crawling I caught him grabbing a coffee bean on the ground and sticking it in his mouth."
Webb said the toddler just wants to experience what his parents are doing and has even learned to steam milk really well.
Adler's mum said while he doesn't make drinks for customers, he does make them for his parents and they're "really, really good".
"I can actually say I can't tell the difference between his and someone else's," Jenn told Fox 29.
Watch Adler in action in the video above.
SEE ALSO:

Toddler Confused By Happy Tears After Finding Lost Toy In Fridge: 'Mummy, Why Are My Eyes Watering?'

Toddler Hears Adele's 'Hello' Song For First Time, Sweetly Replies To Lyrics And Says 'Hi' Back

Gorilla Teaches Innocent Toddler To Swear, Mum Finds It Hard To Control Laughter