'EastEnders' had many surprises in store during its much-hyped New Year's Day episodes, as serial killer Lucas Johnson made a shock return, while evil rapist Dean Wicks was finally arrested for his crimes.
Bosses delivered on their promise that the two instalments of the BBC soap would be some of the best in recent months, as the drama focused on the wedding of Mick and Linda Carter (Danny Dyer and Kellie Bright).
However, the biggest revelation was the return of Denise Fox's murdering ex-husband, played by Don Gilet.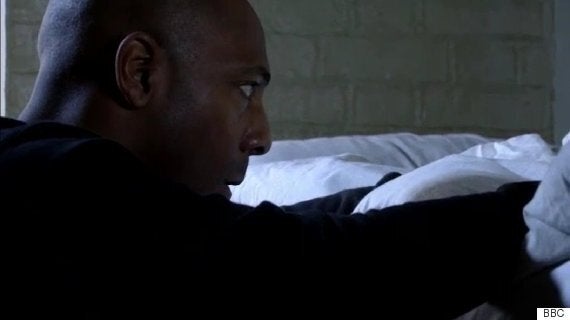 Lucas Johnson made a shock return to 'EastEnders'
Denise (Diane Parish) was seen receiving a call from Lucas, who is still in prison for killing his ex-wife Trina, Denise's ex-husband Owen, as well as kidnapping Denise and faking her death in 2010.
He had hidden a mobile phone in his cell and managed to call Denise after she registered to visit him to discuss the whereabouts of his son Jordan.
After changing her mind about the visit, Denise told Lucas never to call her again, but we doubt that will be the last we hear from the serial killer…
Elsewhere, Dean Wicks (Matt Di Angelo) was finally brought to justice for raping Linda Carter and his attempted attack on Roxy Mitchell (Rita Simons), after gate crashing Mick and Linda's wedding.
The troubled hairdresser turned up at his brother's nuptials to seek revenge on his mother Shirley Carter (Linda Henry), after she tried to drown him, having finally realised his crimes.
The pair became embroiled in a deadly scramble, when he pushed her in a lake at the wedding venue, before he then turned on Mick when he dived in to rescue Shirley.
While it looked like Mick had killed his brother during the underwater tussle, the Queen Vic landlord saved his brother's life, not wanting him to escape punishment for raping his wife.
Police then turned up to arrest Dean, marking actor Matt's last appearance as the character.
After the drama unfolded, Mick and Linda finally tied the knot in a heart-warming ceremony, which saw Mick dressed in his famous fluffy pink dressing down.
At last, a happy ending in Albert Square.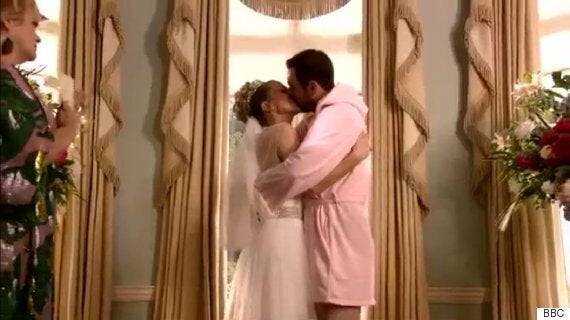 Mick and Linda finally tied the knot
'EastEnders' continues on Monday (4 January) at 8pm on BBC One.