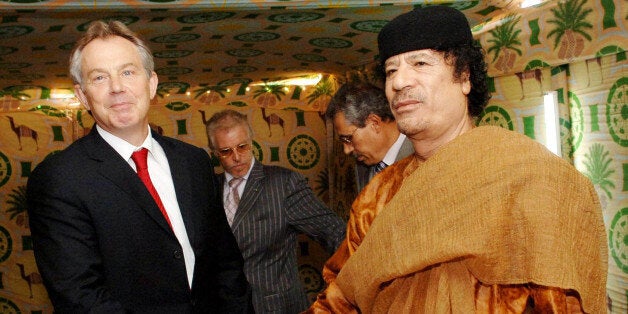 Transcripts of phone conversations between Tony Blair and Colonel Gaddafi from February 2011, as the then Libyan leader clung onto power amid widespread protests against his regime, have today been made public.
The documents show Blair attempting to persuade Gaddafi to "stand aside" as leader and find a "safe place to go" in order to try and avoid further violence as the country descended into civil war.
In March 2011 Britain, France and the United States launched airstrikes against Gaddafi's regime. He was eventually ousted from power by opposition forces and went into hiding. Gaddafi was killed in October 2011.
In December, Blair appeared before the Commons foreign affairs committee to explain his role in Gaddafi's downfall. The former prime minister told MPs the West's decision to throw the former Libyan leader "under a bus" signalled to dictators such as Bashir Assad not to give up their chemical weapons.
Blair admitted he called Gaddafi a number of times over a 24 hour period in February 2011 to try and persuade him to step aside during the Arab Spring uprising. However, he was not trying to "save Gaddafi", but instead hoping for "evolution, not revolution" in Libya.
The committee has now published transcripts of two of those phone conversations on 25 February, in which Blair refers to Gaddafi as "the Leader", as handed over by the former prime minister.
Crispin Blunt MP, chair of the foreign affairs committee, said today: "The transcripts supplied by Mr Blair provide a new insight into the private views of Colonel Gaddafi as his dictatorship began to crumble around him. The failure to follow Mr Blair's calls to 'keep the lines open' and for these early conversations to initiate any peaceful compromise continue to reverberate.
"The committee will want to consider whether Gaddafi's prophetic warning of the rise of extremist militant groups following the collapse of the regime was wrongly ignored because of Gaddafi's otherwise delusional take on international affairs.
"The evidence that the Committee has taken so far in this inquiry suggests that western policy makers were rather less perceptive than Gaddafi about the risks of intervention for both the Libyan people and the western interests."