'Celebrity Big Brother' bosses have come under intense fire from fans, after failing to step in when Tiffany Pollard mistakenly believed David Gest had died inside the house.
READ MORE:
A huge row erupted during Tuesday (12 January) night's episode, when the US reality star misunderstood Angie Bowie, who had just informed her of her ex-husband David Bowie's death.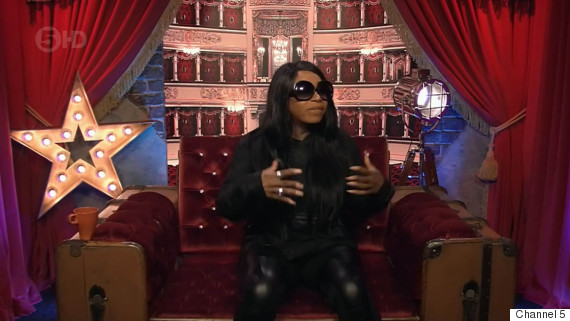 Tiffany Pollard was at the centre of the misunderstanding
When Tiffany hysterically told the rest of the house that it was housemate David Gest who had "died from cancer in the Diary Room", it then took a long time for them to establish that she had actually misinterpreted what Angie was telling her.
Angie became highly emotional and appeared frightened as Tiffany shouted at her, and many fans took to Twitter, claiming that producers should have intervened before the events escalated to such an emotionally-charged level.
Maybe this is when big brother should intervene. This is a serious issue & a terrible misunderstanding - social experiment gone wrong #cbb

— zainab ceesay زينب (@mszains) January 12, 2016
@Cbbuk2016 disgraceful why didn't you intervene in the confusion over David right away! All for ratings #CBB

— SaraSozzle (@xxsaralewisxx) January 13, 2016
#CBB BIG BROTHER NEEDS TO INTERVENE. Having this situation continue is cruel on Tiffany. As Angie said - a comedy of errors.

— Lea Heartbeats (@Lea_Heartbeat) January 13, 2016
Big Brother should have intervened, allowing that stress for Angie #cbb

— DontSwimInTheSea (@RosesandRockets) January 13, 2016
Regardless of the situation it's unacceptable for big brother to not step in and help Tiffany out when the entire house segregated her #CBB

— Sian (@sianlouiseoxx) January 13, 2016
Wow 😱 really shocked big brother didnt step in and let that all kick off 😕 shame on big brother, poor angie having 2 deal with that #CBB

— ♥HausOfJen♥ (@miss_gaga03) January 12, 2016
Others claimed that it was disrespectful to David Bowie's memory.
It's disgusting how @channel5_tv have turned David Bowies death into entertainment for the night. #CBB #channel5 #wrong #noshame

— EmJ (@EmmaJayneEllis) January 12, 2016
A disgusting way to announce the death of one of music's biggest legends of modern times. Shame on you #CBB @channel5_tv #RIPDavidBowie

— Katherine (@KathySunnyLion) January 12, 2016
Disgusting, horrible TV to watch! Why is this being shown! disrespectful to Bowie #cbb #disgusting #disrespectful #DavidBowie

— John H (@johnjhmd) January 12, 2016
I'm mad #CBB has turned that man's death into a damn circus. Smh.

— Shea Mathers (@Shea_Rihtina) January 12, 2016
However, there were some fans who saw light of the unfortunate "comedy of errors", as Angie herself called it.
That is hands down one of the most ridiculous and hilarious moments in TV history 😂😂 David's in bed like wtf naw I'm no deed 😂 #CBB

— Eazy (@ScottMcGhie) January 12, 2016
OMG ! Talk about Laugh through my tears- WTF?!!! #CBB madness genius and insanity ... Unwritable stupid and hilarious #ICant!!!

— Sinitta 19 (@sinittaofficial) January 12, 2016
OMG 😂😂😩 I shouldn't laugh but Tiffany thinking it's David Gest that died was hilarious, but they need to be more respectful 😐 #CBB

— caits (@caitlinnaughts) January 12, 2016
#CBB this is car crash tv at its finest! The most unbelievable bit is that David Gest seems to have slept through the whole thing!

— Cecile Metcalf (@Cecile_Metcalf) January 12, 2016
A 'CBB' spokesperson later defended the episode, telling Buzzfeed UK: "It is always the show's aim to represent and reflect the day's events accurately to viewers.
"After being told of the tragic news off-camera yesterday by her own representative, Angie made the decision – entirely of her own accord – to remain in the 'Celebrity Big Brother' House and to continue participating in filming. The option to leave the house remains open to Angie at any time."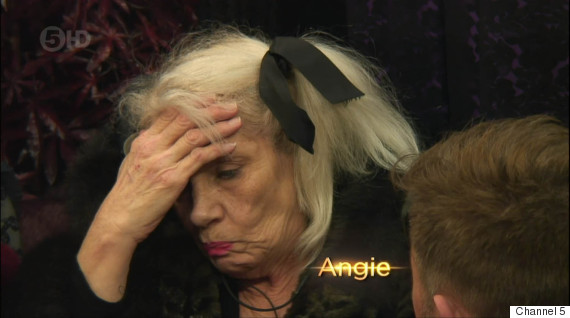 Angie Bowie was distressed by the row
It wasn't the first time this week that the programme had come under scrutiny.
Viewers also blasted bosses following Monday's show, which included a teaser trailer for Tuesday that featured footage of Angie in the Dairy Room reflecting on her ex-husband's death.
It also attracted complaints to broadcasting regulator Ofcom, who are currently deciding whether to investigate.
'Celebrity Big Brother' continues tonight at 9pm on Channel 5.
LIKE US ON FACEBOOK | FOLLOW US ON TWITTER