The rock music world is in fresh mourning tonight with the news that Eagles guitarist Glenn Frey has died, aged 67.
Celebrated for his work both with the Eagles and during a long solo career, Frey died in New York on Monday, after suffering with arthritis, colitis and pneumonia.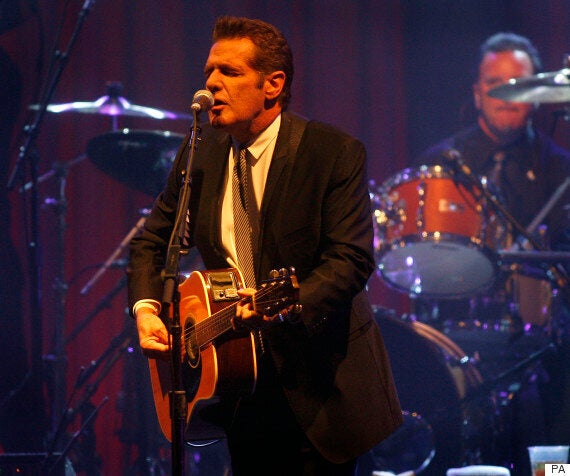 Glenn Frey was one of the rock music world's founding fathers
The Eagles made the sad announcement on their website today, saying:
"It is with the heaviest of hearts that we announce the passing of our comrade, Eagles founder, Glenn Frey, in New York City on Monday, January 18th, 2016.
Glenn fought a courageous battle for the past several weeks but, sadly, succumbed to complications from Rheumatoid Arthritis, Acute Ulcerative Colitis and Pneumonia.
The Frey family would like to thank everyone who joined Glenn to fight this fight and hoped and prayed for his recovery.
Words can neither describe our sorrow, nor our love and respect for all that he has given to us, his family, the music community and millions of fans worldwide."
The message continued with the lyrics from one of Frey's songs, 'It's Your World Now', co-written with Jack Tempchin. The words are a fitting message for this sad day for the millions of Eagles fans around the world:
A perfect day, the sun is sinkin' low
As evening falls, the gentle breezes blow
The time we shared went by so fast
Just like a dream, we knew it couldn't last
But I must be leavin' soon
You'll always be in my heart
When dark clouds appear in the sky
Remember true love never dies
But first a kiss, one glass of wine
Just one more dance while there's still time
My one last wish: someday, you'll see
How hard I tried and how much you meant to me
Be part of something good
Leave something good behind
That's how it's meant to be
Glenn Frey formed the Eagles alongside Don Henley, who issued the following statement today:
"He was like a brother to me; we were family, and like most families, there was some dysfunction. But, the bond we forged 45 years ago was never broken, even during the 14 years that the Eagles were dissolved. We were two young men who made the pilgrimage to Los Angeles with the same dream: to make our mark in the music industry — and with perseverance, a deep love of music, our alliance with other great musicians and our manager, Irving Azoff, we built something that has lasted longer than anyone could have dreamed.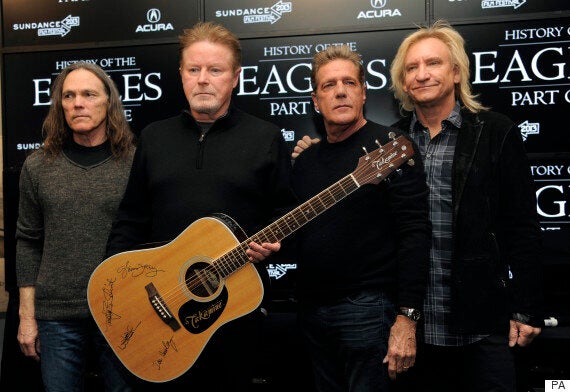 The Eagles - "like most families, there was some dysfunction, but the bond we forged 45 years ago was never broken"
"But, Glenn was the one who started it all. He was the spark plug, the man with the plan. He had an encyclopedic knowledge of popular music and a work ethic that wouldn't quit. He was funny, bullheaded, mercurial, generous, deeply talented and driven. He loved his wife and kids more than anything.
"We are all in a state of shock, disbelief and profound sorrow. We brought our two-year 'History of the Eagles Tour' to a triumphant close at the end of July and now he is gone. I'm not sure I believe in fate, but I know that crossing paths with Glenn Lewis Frey in 1970 changed my life forever, and it eventually had an impact on the lives of millions of other people all over the planet. It will be very strange going forward in a world without him in it. But, I will be grateful, every day, that he was in my life.
"Rest in peace, my brother. You did what you set out to do, and then some."
Glenn Frey was lead guitarist and sang lead vocals on a string of the band's hits, including 'Take It Easy', 'Hotel California' and 'Tequila Sunrise'. The Eagles - comprising Bernie Leadon and Randy Meisner alongside Frey and Henley - were one of the biggest bands of the 1970s, selling 150 million records and winning six Grammy Awards.
Following the band's split in 1980, Glenn Frey embarked on a successful solo career, during which he penned such chart hits as 'Soul Searchin' and 'The Heat is On', which became the soundtrack for the 1984 film 'Beverly Hills Cop'.
Despite their success, acrimony among the Eagles was legendary, with Don Henley once promising the band would only reunite "when hell freezes over". This became the title of the album they recorded when they reunited in 1994, and went back on the road together.