Facing any of the Chasers on 'The Chase' is daunting for even the most clued-up contestants, but one particularly clueless hopeful still managed to take a share of the prize on Tuesday's show, much to the despair of Twitter.
READ MORE:
Things didn't get off to the best of starts for Hannah, a student from West Sussex, when she told host Bradley Walsh that she was at Bath University studying French and Italian.
But when Brad asked the 19-year-old to say 'Hello Brad, it's a pleasure being on The Chase' in both languages, all she could muster was 'Bonjour' and 'Ciao'.
Oh dear.
Story continues after the video...
Things went from bad to worse when she was given the opportunity to wow us with her general knowledge in the Cash Builder round, but failed to get a single question right.
We'll admit that she had some toughies, but surely she could have guessed the answer when asked which TV naturalist the 'Attenborough-asaurus dinosaur' is named after.
*face palm*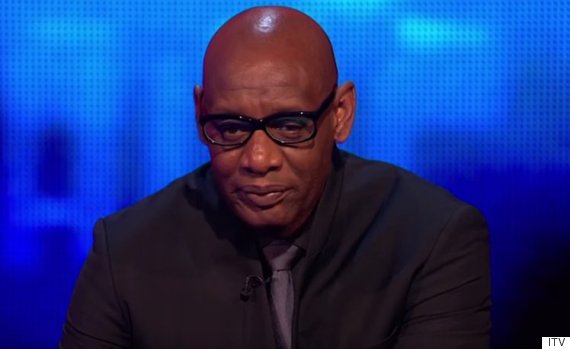 A bad day at the office: Chaser Shaun 'The Dark Destroyer' Wallace
Despite building a cash pot of zero pounds and zero pence, Hannah went on to face the Chaser, but Shaun Wallace, aka the Dark Destroyer, was having a bad day at the office and Hannah made it through to the final Chase.
And her contribution? Minus £1000.
Twitter was NOT happy, including two famous faces…
Hannah on #TheChase is bloody awful.....worst I've EVER seen.

A

— antanddec (@antanddec) January 19, 2016
Hannah, absolute pond life #thechase

— Jacques Stepheni (@jackstephenmurr) January 19, 2016
Worst contestant EVER on The Chase. What a dumbo! #TheChase

— Fiona Flaherty (@SproutOfWrath) January 19, 2016
I'm embarrassed for her. My God. #TheChase

— Jessica Knight ღ (@JessTea93_) January 19, 2016
This Hannah girl on #TheChase is probably the most offensively stupid person I have ever seen. And I've been on a night out Grantham.

— Nick Deal (@Nicko12321) January 19, 2016
I hate to mock the inflicted, but Hannah... Oh dear... #TheChase

— Stef Maynard (@StefM78) January 19, 2016
She got nothing?! How the hell did she manage to get nothing!!! 🙄🙄 #Hannah#TheChase

— MissM (@Milly1978) January 19, 2016
#TheChase Seriously, I wonder if Bath University might be having a word. She's made their Modern Languages dept look like right fools

— Tony Walton (@tonyinselby) January 19, 2016
Hannah Mastrangelo makes me afraid to go on #thechase was that nerves tonight or pure stupidity? 🙈

— xo (@PlatinumGypsy) January 20, 2016
Despite taking a grand out of the prize pot, the team did manage to go on and beat the Chaser in the final Chase, meaning Hannah took home £2,666.
Which we bet her fellow contestants were REALLY happy about.
LIKE US ON FACEBOOK | FOLLOW US ON TWITTER