'Spin', the French political thriller currently hooking viewers on More4 as well as world drama platform Walter Presents, is set to take another twist this week as the spin doctor Simon's wife Appoline looks set to reveal more details about the dead president's assassination.
Meanwhile, Simon Kapita, the sometimes frazzled but never inelegant spin doctor brought back from New York to steer his dead president's mistress into office, is still rebounding from the shock of seeing his former pupil Ludovic – the equally dashing Gregory Fitoussi – turned rival, and in control of the Prime Minister's rival election campaign.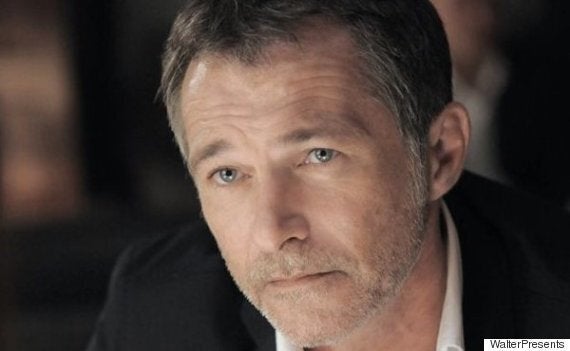 Bruno Wolkowitch plays Simon Kapita, a spin doctor who must return from exile to help his client win the French election
For actor Bruno Wolkowitch who plays silver fox Simon, reading these scripts and acting in the show (two series in, one more currently planned in France) has made it almost impossible for him to believe in the politics he used to read in the papers, watch on the news.
"Before I had little belief in political people, but after acting in this show, with those scripts, I don't believe in anything. I have no hope," he tells HuffPostUK, sounding remarkable unfazed by the prospect.
"We maybe have one in every 10 politicians trying to do well, but that's about it. I'm not being cynical, I'm being realistic.
"I don't read papers any more. Maybe Simon is responsible for that, I stopped watching any news on French television. I only absorb very precise facts now. I don't watch to read about a point of view any more. I don't want to watch programmes swapping between people killed in tragedies and being excited about the new foie gras that's coming our way."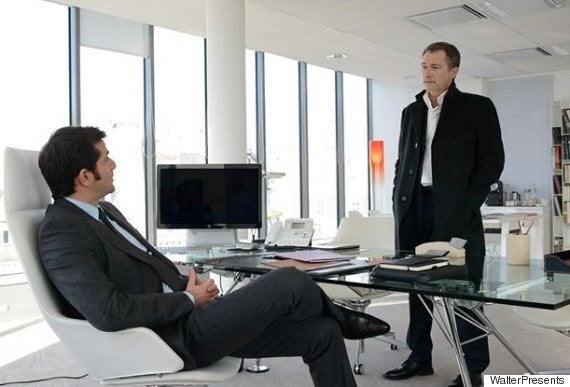 Gregory Fitoussi plays Ludo, Simon's pupil turned adversary
Despite his cynicism at what he is told, Bruno remains a huge fan of his own real president Francois Hollande, still most familiar in the UK for being photographed visiting his lover, on a moped, wearing an oversized helmet.
"Although I'm cynical, I still believe in Monsieur Hollande, because of his eyes. I know that's very romantic," he smiles, crinkling up his own.
"I think he's good, clever, he knows a lot about politics, and he doesn't show it. Everyone's been making fun of him, and I love to be on the side of the underdog."
Simon Kapita holds for Bruno the same appeal, it would appear. "I love that he is very good in his work, and that he has a private life, totally destroyed, that he can't manage," he chuckles. "That feels very familiar to me.
"It's very difficult to play because I feel close to him, and usually I like to play the opposite type of characters. I'm trying to do very well my job, and I have a fucked-up private life, which is a mess." (I can't really imagine a British actor telling a journalist this with quite the same nonchalance, somehow.)
If the state at deceitful political play has become a standard drama offering in every country it seems – "I think writers were tired of writing only about doctors and policemen, and they had to find another universe," is Bruno's take – does 'Spin' offer something uniquely French that we can still recognise in this universal age of news and politics, I wonder?
"I think it's the real fragility of the characters," is what Bruno, as seemingly qualified as they come, has to say. "These characters could really break. Especially Simon, you could authentically believe, wow, he could actually have a nervous breakdown, and this should end tomorrow."
For the sake of 'Spin's big and expanding fanbase, let's hope not.
'Spin' continues on More4, and is available on WalterPresents, Channel 4's platform for the best of world drama.