Most of us are used to seeing the haka, the traditional Māori dance, performed before rugby matches by the New Zealand All Blacks. But now, a powerful wedding haka has gone viral and is making the internet a little emotional.
Aaliyah and Benjamin Armstrong tied the knot in Auckland, New Zealand, last week and were "blown away" by the dance, which was performed in front of the entire wedding party after the ceremony.
Speaking to the BBC, the emotional bride, 21, explained that the dance was performed by the groom's best man and his family as a mark of respect.
But as the performance intensified, the couple both decided to join in with the dance.
"I wasn't planning on jumping in until one bridesmaid did. I felt the need to show love and respect back," said Ms Armstrong. "I was really blown away."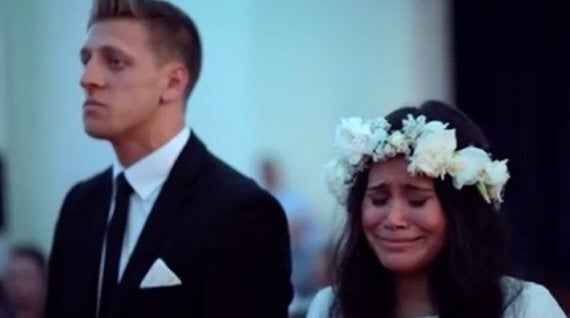 A haka is a traditional Māori war dance characterised by its rhythmic shouting, facial contortions, foot stomping and body slapping. Traditionally it is used to intimidate the enemy (such as in International rugby) but it is also used for important occasions such as weddings and funerals.
And as far of first dances go, this one really takes the biscuit.
The video, which was shared by I'm Proud To Be Tongan Facebook page, has been viewed more than 16 million times.
We'll just leave this here...