David Bowie's classic film 'Labyrinth' looks set to receive a sequel.
READ MORE:
According to Entertainment Weekly, a follow-up to the 1986 musical fantasy is in the works.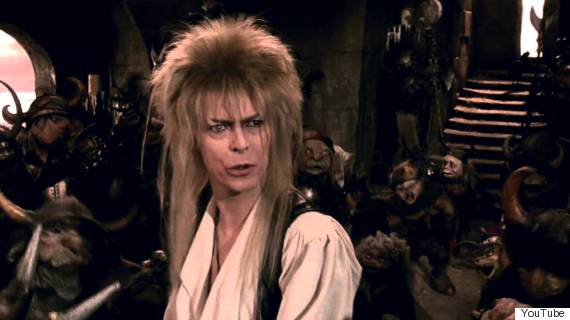 David Bowie in 'Labyrinth'
'Guardians Of The Galaxy' co-writer Nicole Perlman has apparently been hired to pen the script, while it's also been reported that The Jim Henson Company are behind the project, as they were with the original.
The decision to make a new film comes less than two weeks after David's death.
The singer passed away last Monday (11 January), aged 69, following a secret battle with cancer.
He played Jareth the Goblin King in the original 'Labyrinth', which told the tale of Jennifer Connelly's character Sarah Williams, as she navigated her way around the mystical maze to save her brother Toby from the Goblin King.
While the new film will be a sequel, rather than a remake of the first film as Variety previously reported, many fans were not happy at the news.
Many took to Twitter to air their disappointment:
Our reaction to a new #Labyrinth movie.... https://t.co/DI3Oh3YDL6 😕😕 pic.twitter.com/C0ehyDaLf0

— Nerdist (@nerdist) January 23, 2016
@Pur_Geekery im pretty upset about labyrinth- why would they do this? It's so perfect in the first place.

— Amy Awesome (@AmyAwes0me) January 23, 2016
I presume Bowie didn't want to do it. Now he's dead... Full steam ahead.

Or just shameless cash in on his death.

January 23, 2016
Why can't they just leave things alone?! Oh ye money, that's why. I forgot for a minute there. https://t.co/nY8zDtn2vI

— Allan James (@Allanjambo) January 23, 2016
Oh, Hollywood… FFS! No. "TriStar has closed a deal with The Jim Henson Co. to produce a new iteration of Labyrinth" pic.twitter.com/UzkSW494UX

— Maurice Schutte (@followmaurice) January 23, 2016
I am so against a Labyrinth sequel, however, St. Vincent would be awesome as the Goblin Queen.

— Justin Epperson (@sprsk) January 23, 2016
Could they not wait till the body was cold? Tri-Star is planning a #Labyrinth sequel/remake/reboot/something. pic.twitter.com/vZ3Fy9irlI

— HOTCHKA (@Hotchka) January 23, 2016
Just... no. Leave Labyrinth alone. It doesn't need a sequel or a reboot. LEAVE IT BE, especially in the wake of Bowie's passing.

— Obi-Wan LeMoyne (@RBLeMoyne) January 23, 2016
'Labyrinth' was initially a flop at the box office, as by the end of its run in US cinemas, it had grossed just $12.7 million - just over half of its $25 million budget.
However, it later became a cult classic after it was released on home video.
LIKE US ON FACEBOOK | FOLLOW US ON TWITTER