A seven-year-old girl who had a rare eye cancer is now looking forward to getting her official all-clear, after the condition was caught early thanks to her toothbrush.
Katie Lolley was just two years old when she was brushing her teeth with the £3 Tesco toothbrush that had a flashing light to show how long children should use it.
Mum Rebecca Lolley noticed a strange reflection in Katie's eye that turned out to be a retinoblastoma - a rare malignant tumour of the retina affecting young children.
"If it wasn't for that flashing toothbrush, we may never have seen the tumour – not until it was too late anyway," said Lolley, 34, from Coventry, West Midlands.
"The toothbrush saved Katie's life."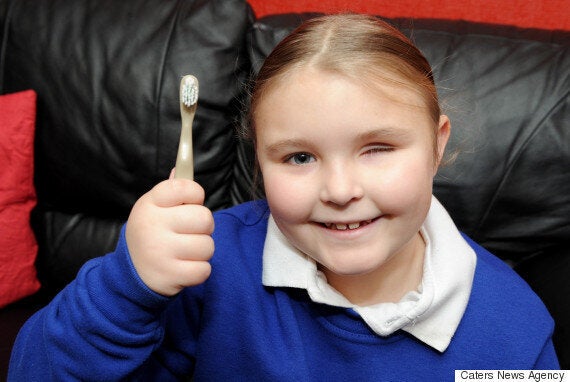 Lolley said she bought the toothbrush for Katie because it looked like fun.
She said it had a bear called Billy on the handle and a light that flashed for 60 seconds when you pressed the button on the front.
But she didn't realise what an important purchase it would turn out to be.
"When Katie first used it we turned out the bathroom lights so Katie could see the flashing lights - she loved it, she thought it was really cool," said Lolley.
"But when I looked more closely at her face in the dark, I could see a weird white reflection in one eye that was lit up by the flashing light.
"When I saw that we decided to take her straight to hospital."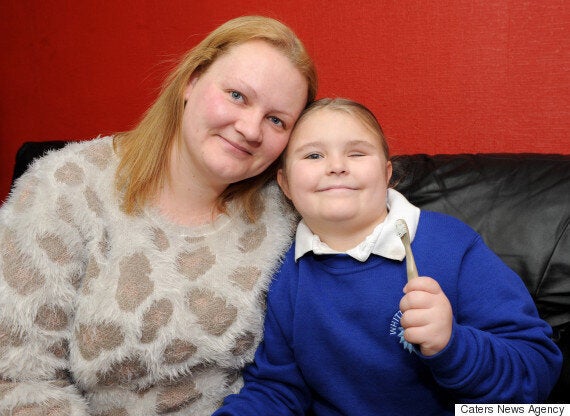 Lolley said doctors managed to catch the tumour just in time to save Katie's life.
Medics performed an emergency operation to remove Katie's eye.
Lolley continued: "We were devastated by a diagnosis of retinoblastoma and it's horrible that Katie had to lose an eye.
"But we were incredibly lucky that we caught the tumour when we did, Katie didn't have to go through any chemo or other treatment.
"We really want to warn other parents to be on the look-out for this cancer – it spreads so fast and is often fatal.
"We're just so relieved we bought that toothbrush and spotted the tumour when we did - we feel so lucky and grateful that Katie is still with us."
Along with her mum and dad Karl, 36, Katie helps campaign to raise awareness of eye cancer on behalf of the charity.
Her mum added: "We're incredibly grateful for the opportunity to promote and support a fantastic charity, which does so much to help children just like Katie."

Disney Princess Wigs For Kids With Cancer