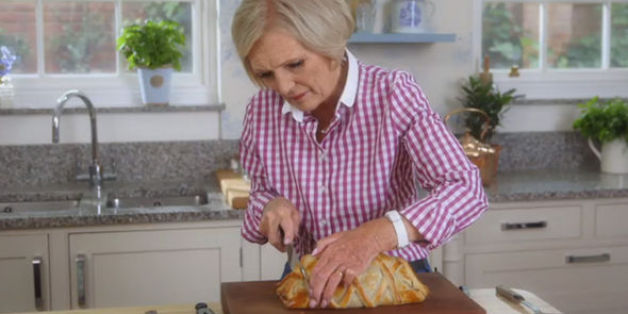 BBC
Mary Berry is always dishing out criticism of bakers' soggy bottoms on 'The Great British Bake Off', but now it seems the TV cook has committed the ultimate baking crime herself.
READ MORE:
Viewers of her new show 'Foolproof Cooking' have accused her of serving up an undercooked Beef Wellington.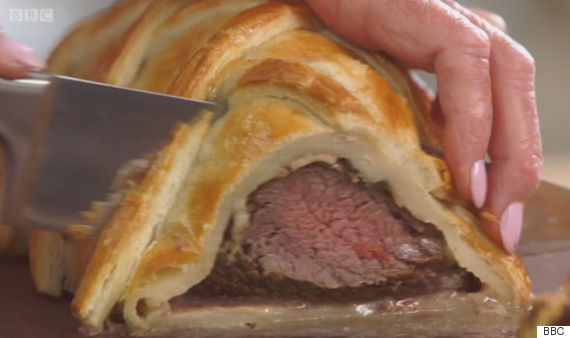 Viewers said Mary's Beef Wellington was raw
Many fans remarked that the base of the pastry dish still looked raw, resulting in the dreaded 'soggy bottom', and took to Twitter to point out her error.
SOGGY BOTTOM SOGGY BOTTOM Mary Berry tipped the beef wellington the other way so we only saw the top. DEFFO soggy bottom #foolproofcooking

— Lottie Young (@lottie_young) January 25, 2016
Is it just me, or did the pastry on Mary Berry's beef Wellington look undercooked? #MaryBerry

— Rob Archer (@lazylobster69) January 25, 2016
Mary Berry cheats! Soggy Bottom hidden by broccoli! #MaryBerry

— Mick Muldoon (@mickmuldoon) January 25, 2016
Mary berry has just made a beef Wellington and the pastry is raw! I'm horrified. #soggybottom

— Rosie (@cider_withrosie) January 25, 2016
I'll say it. Mary Berry's Beef Wellington is rubbish. #thatsdefinitelynotaeuphanism

— Mark Sammons (@MarkSammons) January 25, 2016
Mary's new six-part series sees her sharing her cookery know-how with a selection of her foolproof recipes for both amateur and more accomplished cooks.
She will also be seen back in screen in a new series of celebrity 'Bake Off' in aid of 'Sport Relief' tonight (27 January).
The first episode will see the Prime Minister's wife Samantha Cameron, England goalkeeper David James, 'EastEnders' actress Maddy Hill and comic Jason Manford serving up culinary delights in the 'Bake Off' tent, to be judged by Mary and co-star Paul Hollywood.
Other stars taking part in the series include singer Will Young, Spice Girl Geri Halliwell, Girls Aloud's Kimberley Walsh and newscaster John Simpson.
'The Great Sport Relief Bake Off' airs tonight at 8.30pm on BBC One, while Mary's 'Foolproof Cooking' continues on Monday at 8.30pm on BBC Two.
LIKE US ON FACEBOOK | FOLLOW US ON TWITTER