British Prime Minister David Cameron moved closer to securing a renegotiated European Union deal for the UK after the EU proposed an "emergency brake" to ease pressure from migrants on public services.
Cameron had insisted a four-year ban on migrants claiming in-work benefits was required for him to support Britain staying in the EU.
Details of the "emergency brake" are to be unveiled by European Commission President Jean-Claude Juncker when he meets with the British PM in Brussels on Friday.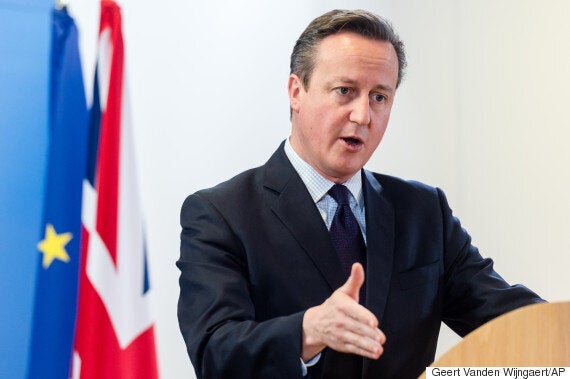 Prime Minister David Cameron addresses the media after an EU summit in Brussels on Friday, Dec. 18, 2015
Reports suggest the plan would bar EU migrants from claiming UK benefits for up to four years when British public services are under strain.
Reacting to the news during a visit to Scotland on Thursday, Cameron said he was "glad others in Europe are now taking on board this issue and looking at strong alternatives to the proposal I put forward."
"The problem is clear, people coming to the UK getting instant access to our welfare system, that's the problem I put on the table and I've said my proposal remains on the table until I see something equally potent being brought forward," he said.
"But what's good is that others in Europe are bringing forward ideas to address this problem so we have better control of movement of people into our country," Cameron added. "I'm pleased that people are bringing forward ideas. It's a complex negotiation this, there's a lot of work to be done not just on migration but on the other things I've spoken about."
However, the workings of the "emergency brake" mechanism have yet to be revealed, specifically which body – the EU or the British government – will say when the brake is to be applied.
As well as Juncker, Cameron is to meet with European Parliament President Martin Schulz on Friday, and then meet with European Council President Donald Tusk in Downing Street over the weekend.
Tusk is currently working on integrating Britain's proposals, and is due to publish his findings in the coming weeks ahead of the EU summit on Feb. 18.
Should Cameron leave the summit with the agreement of the 27 EU leaders, the referendum could be held as soon as this summer.
"We know the Prime Minister understands how inadequate this new proposal is himself because he dismissed it as 'some arcane mechanism, which would probably be triggered by the European Commission and not by us' two years ago," he added.