Idris Elba made a dig at the Oscars diversity row, during last night's (30 September) Screen Actors Guild Awards.
READ MORE:
The Academy Awards have come under fire this year, for failing to recognise a single person of colour in this year's nominations, with many stars calling for a boycott of the ceremony.
While introducing a clip of his latest film, 'Beasts Of No Nation', at the SAG Awards, alongside his young co-star Abraham Attah, Idris made sure to slip in a knock at the Oscars, remarking: "Ladies and gentlemen, welcome to diverse TV."
Idris took not one but two acting prizes home during this year's SAG Awards, both for his supporting role in 'Beasts Of No Nation' and his performance in the recent 'Luther' TV specials.
However, despite being honoured by the Screen Actors Guild, his performance in 'Beasts Of No Nation' was snubbed by the film academy ahead of this year's Oscars, as were his fellow black actors Will Smith for 'Focus', O'Shea Jackson Jr for 'Straight Outta Compton' and Michael B Jordan for 'Creed'.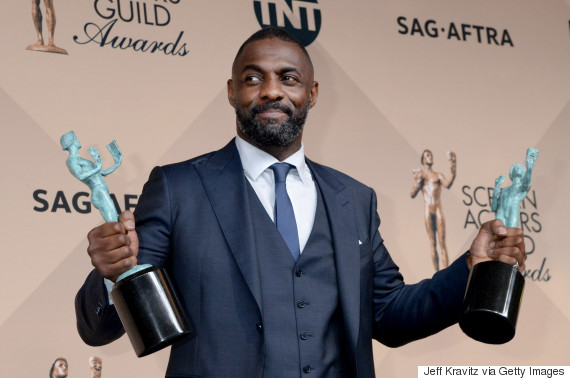 Idris Elba with his SAG Awards
Will Smith is among the stars to call for a boycott of the Oscars, to make a point about diversity in the world of film.
Earlier this week, he gave an interview explaining how he felt about the controversy, explaining he thought the lack of diversity was a reflection of a wider problem of racism in American society.
Also among the winners at this year's SAG Awards were Queen Latifah, Uzo Aduba and Viola Davis.
LIKE US ON FACEBOOK | FOLLOW US ON TWITTER