Ant and Dec have cast further doubt on their future with ITV, after admitting that the upcoming series of 'Britain's Got Talent' could be their last.
READ MORE:
The Geordie duo have once again hinted that they could leave the network when their multi-million pound golden handcuffs deal comes to an end later this year. Ant and Dec could leave 'Britain's Got Talent'
Asked if they will host the 11th series of 'BGT' in 2017, Ant is quoted by The Mirror as saying: "We're not sure, because it's the last year we're contracted for.
"We'll have to see. It's been 10 great years. Well, nine great years - we're hoping the 10th will be just as good as the rest."
He added: "There's no reason why we should leave, but let's do this series first and make it a good 'un."
Last month, the TV pair - who also host 'Saturday Night Takeaway' and 'I'm A Celebrity… Get Me Out Of Here!' for ITV - admitted they could quit to join subscription streaming services such as Amazon Prime or Netflix.
Dec told The Sun: "Shows like 'BGT' bring the whole family together which is kind of irreplaceable on those streaming services. But there's room for both.
"The big difference is the amount of money your Netflixes and your Amazon Primes have to spend."
Asked if they would make the jump, Ant said: "Well, we're in the last year of our contract so that would be very unfair of me to say - wouldn't it?"
"Who knows where we are going to be?" Dec added.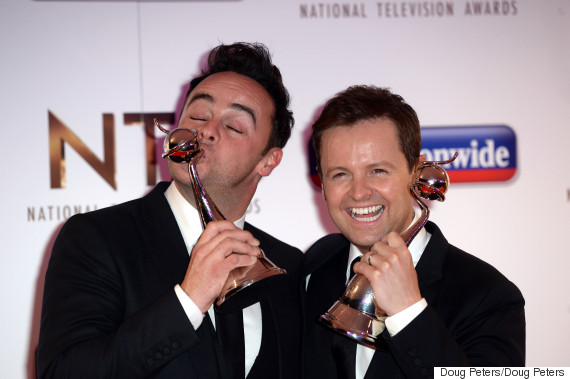 The duo won their 15th NTA for Best Presenter last month
They wouldn't be the first high-profile presenters to do it, however, as former 'Top Gear' trio Jeremy Clarkson, James May and Richard Hammond are launching a Amazon Prime motoring series later this year, after leaving the BBC.
No doubt ITV will be keen to keep Ant and Dec given their enduring popularity, which saw them win the Best Presenter gong at the National Television Awards for the 15th year in a row last month.
LIKE US ON FACEBOOK | FOLLOW US ON TWITTER