James Corden was always going to have a hard task topping his last Carpool Karaoke, which saw Adele hopping in his motor for a singalong, but the comedian has managed to rope in another of the biggest names in British music.
Coldplay frontman Chris Martin has joined James in his car for a drive around in his latest sketch for US talk show 'The Late, Late Show'.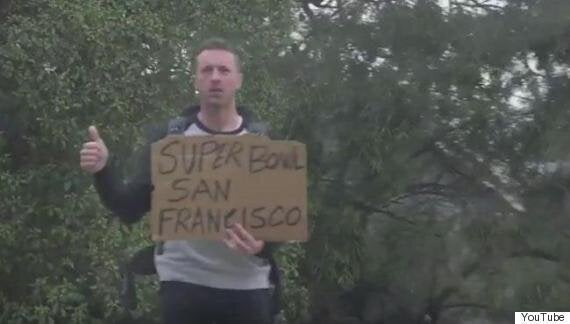 Chris Martin is the latest to take on Carpool Karaoke
The new video sees James setting out on a journey to the Super Bowl, where Coldplay are playing the halftime show this year, when he drives past Chris, who is trying to hitchhike a lift to the game.
Over the course of the sketch - which aired in full in Tuesday (2 February) night's show - the two give hearty renditions of some of Coldplay's hits, including 'Viva La Vida' and 'Adventures Of A Lifetime' and 'Viva La Vida', as well as an impromptu tribute to David Bowie, when they sing 'Heroes' accompanied by an electric keyboard.
Coldplay are playing the Super Bowl later this week
During her Carpool Karaoke last month, Adele took on Spice Girls' 'Wannabe', and also proved her skills as a rapper on Nicki Minaj's hit 'Monster'.
Meanwhile, Coldplay will play at the 50th Super Bowl this Sunday, where their set will also feature collaborations with previous halftime show performers Beyoncé and Bruno Mars.
Watch the teaser for Chris' Carpool Karaoke in the video above...
Popular in the Community