A maid of honour has delivered the mother of all wedding toasts - in the form of a personalised rap to 'Ice Ice Baby'.
At the start of her speech, Rachel Winterbottom, who is from Manchester, said that she came up with two potential ideas for a toast to her sister Hayley and her new husband Paul O'Brien.
She asked: "Should I incorporate my maid of honour toast into a workout?" To which the audience replied in unison, "no".
"Should I sing the toast?" she asked. Again, the audience responded: "No."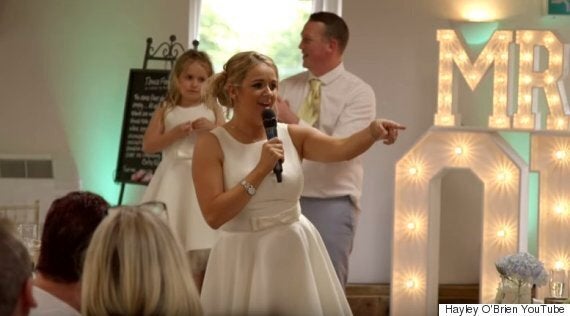 "They're both shit ideas. Absolutely," she laughed. "But the music thing really, really stuck with me."
She continued: "I can't sing. But what I can do, Hayley, is rap.
At that point, 'Ice Ice Baby' came onto the sound system and Winterbottom, being the lyrical genius that she is, embarked on an epic rap devoted to her sister and her hubby.
Judging by their faces, they absolutely loved it... #SisterGoals