A cancer patient who was given two weeks to live believes ditching takeaways and sugar, and eating healthily instead, has helped her fight the disease.
Natasha Grindley, 37, from Liverpool, said that doctors were surprised she had lived past two weeks after being diagnosed with stomach cancer back in July 2014.
Instead of giving up hope, Grindley swapped takeaways and alcohol for nutritious meals, which she said helped boost her immune system in preparation for chemotherapy.
She told HuffPost UK Lifestyle: "I believe that cutting out refined sugar has helped me fight my disease, and I believe reducing sugar intake has huge benefits for the body."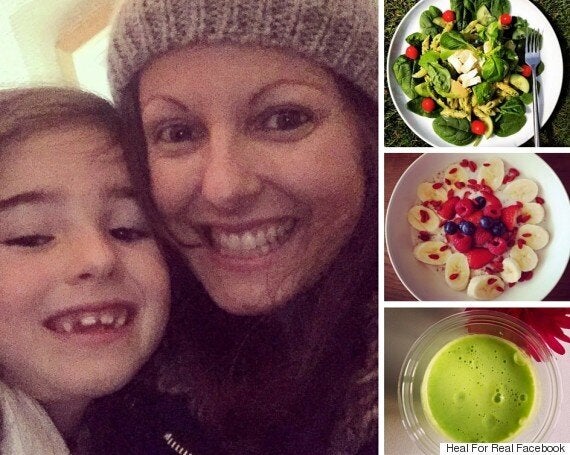 While her cancer hasn't cleared, Grindley says that it has shrunk since she began her clean-eating diet.
"I'm still getting treated but they are generally shocked that I'm still here," she told The Liverpool Echo.
"This has completely changed my life – my diet was awful before this. I didn't realise that my body can't do that, it was making me ill.
"Now I'm like a different person. When you feel that low and then, to be given your body back, it is priceless."
Grindley has since set up a Facebook page called 'Heal For Real' where she shares healthy eating recipes suitable for people with cancer, as well as motivational quotes.
Writing on Facebook, Grindley - who recently completed a diploma in nutrition - said that the aim of 'Heal For Real' is to "spread hope in a seemingly hopeless situation that a cancer diagnosis can bring".
"Your body can heal, you can gain back control, it just needs the right nutritional tools to do it," she said.
On her clean-eating journey, Grindley has corresponded with Ella Woodward, founder of Deliciously Ella, who began eating healthily after being diagnosed with Postural Tachycardia Syndrome in September 2011.
The condition had a "devastating" effect on the chef's life leaving her with chronic pain, unbearable stomach issues and headaches. It was after taking up a whole foods, plant-based diet that Woodward began to get back on her feet.
She now regularly provides Grindley with inspiration and nutritional guidance.
Grindley has also spoken openly about the damage that sugar can have on the body and has told of how she's managed to wean her children Gabriella, who is six, and Liam, who is four, off the sweet stuff.
Speaking to HuffPost UK Lifestyle about the importance of cutting sugar out of children's diets, she said: "If we can teach our children healthy habits and about healthy foods, we are setting them up for life and potentially helping them avoid common health problems later in their life."
The mum-of-two said that she can "feel" her body healing and getting better and said she is "positive" about her prognosis.
But while her story is an incredible one, Dr Helen Webberley, the dedicated GP for Oxford Online Pharmacy, said that there is no medical proof that healthy eating habits can improve a person with cancer's outcomes.
She explained: "Natasha's story is an inspirational one and just shows us all that we can make positive changes for our health whatever our situation.
"But medically, there is no confirmed proof that her cancer was caused by her bad eating habits, nor that her improved health is the result of a change for the good in her diet.
"However, now and again we see almost miraculous changes in illnesses which seem to defy all the 'normal' rules."
She added: "Many have highlighted the effects of positive thinking in cases such as this, and medical research has shown how a vibrant and positive attitude, such as Natasha's, can have a beneficial impact on life-threatening conditions."