Members of British band Viola Beach have been killed, after their car plunged into a canal in Sweden.
The four young musicians, who were from Warrington, Cheshire, were killed in the capital Stockholm on Saturday (13 February), along with their manager Craig Tarry.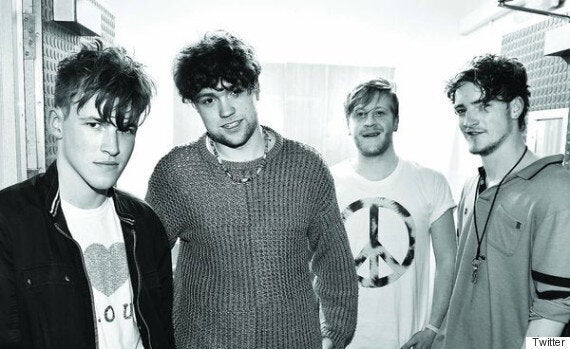 Members of Viola Beach were killed in a Swedish car crash
A spokesperson for the Foreign Office said: "We can confirm that five British nationals died in a car accident in Sweden on February 13.
"We are in contact with local authorities and supporting the families at this very difficult time".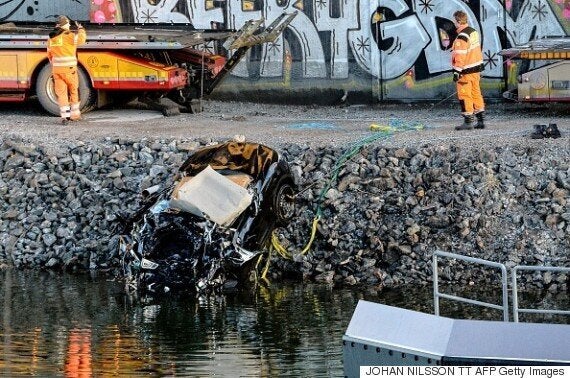 A badly damaged car was removed from the canal
According to local police (via PA), divers have recovered the bodies of the crash victims, after the vehicle they were travelling in plunged from a highway bridge into the canal, more than 25m below.
The band was made up of members Kris Leonard, River Reeves, Tomas Lowe and Jack Dakin, and the group were in Sweden with their manager after playing at music festival Where is the Music? on Friday.
They were due to play a gig in Guildford in Surrey on Saturday.
The family of River Reeves said they are "heartbroken" after hearing of his death. The family of the band's manager Tarry said they are "devastated", adding they are "grieving the loss of their son and also for the other families involved in this tragic accident".
The family of Kristian Leonard said "words cannot express the sadness we feel".
A previous manager of the band, Mark Bennett, paid an emotional tribute to the group on Facebook, writing: "Starting to hit me that my little gang of brothers led by their biggest fan and the hardest working man I know have left us. 4 of the nicest most loveable little rogues that you could ever have the pleasure of meeting," he wrote.
"Possessing a wonderful outlook on life and were simply lads who just lived for the moment, and so appreciative of any help - the number of messages they would send me thanking for the smallest things…..
"When I met them and I somehow convinced them to let me work with them, I never imagined how much success they would achieve in such a small space of time. They had 'it' and they were on track to be 'that band' - from Radio 1 to all the promoters who booked them to all the festivals they were due to play this summer, the excitement was real.
"From your first gig to your last and many in between I was so lucky to be there and I will forever grateful for you lightning up my life.
"I'm devastated I won't get to hang with you all again, but you were the best gang I ever seen and you go together as that gang. Look after each other."
The four-piece group released their debut single 'Swings & Waterslides' last year, and had been tipped for big things by BBC Introducing, which showcases up-and-coming new acts.
Popular in the Community