A radio booth to be exact, as he returns with six episodes of 'Mid Morning Matters' highlighting Alan in his most natural environment, at the microphone of his duties as his adopted county's premier daytime DJ, steering the ship that is North Norfolk Digital.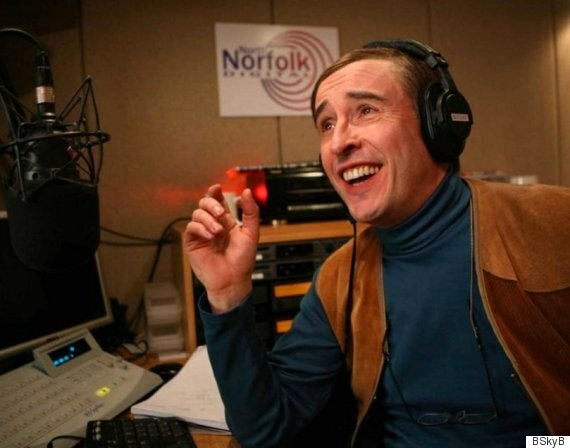 Alan is back in the booth of his beloved North Norfolk Digital
His geographical constraints mean that, paradoxically, Partridge is freer than ever to roam through the variously political, existential and suburban concerns of his imagination - in the first episode he tackles dinner party etiquette, Jimmy Savile and blood sports.
We're only getting six 30-minute episodes this time around, but fear not, there's also a documentary on the way, where Alan, as one of Steve Coogan's co-writers Rob Gibbons told the Independent, "He says something on air that he shouldn't to some working-class people. And then he realises that there's some capital in it because he can do one of those documentaries where he puts on a leather jacket, goes on a journey of redemption and comes out of it a better man."
Alan has now been with us for an impressive 25 years, since he first appeared on radio's 'On The Hour'. Since then, he's been variously a sports reporter, a chat show host, a cultural commentator on his home town of Norwich, and finally the hero of the hour in siege movie 'Alpha Papa'.
The only downside of his triumphant return tonight is that we won't be hearing from Alan from his other favourite spot, behind the wheel of a car.
'Alan Partridge's Mid Morning Matters' returns to Sky Atlantic tonight at 10pm
Popular in the Community