Warning: People may find the photos below extremely graphic.
A mother has shared a shocking image of her daughter who recently died from meningitis to raise awareness of the deadly disease.
Jenny Burdett, from Kent, whose two-year-old daughter Faye died on 14 February after being ill for only 11 days, is petitioning for all children to have the meningitis B vaccine, not just newborn babies.
The mum shared the image and her story with charity Meningitis Now, in the hope it would reach as many people as possible.
"Faye was taken to A&E with a rash on her forehead," Burdett wrote, explaining her story. "She was then transferred by South Bank Retrieval Service to Evelina Children's Hospital, where her heart stopped in the ambulance.
"They revived her and spent hours working on stabilising her."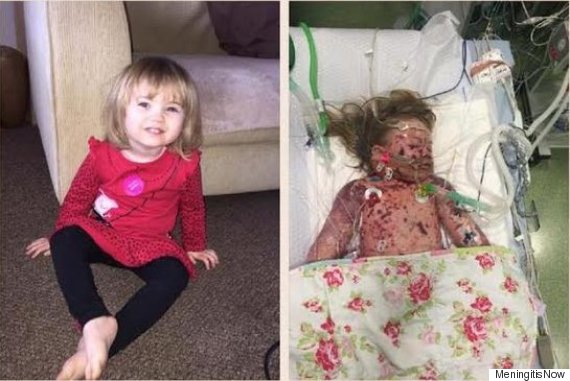 Faye Burdett before she fell ill (L) and hours before she died (R)
Burdett continued: "We were given a 1% survival chance but she proved them wrong and carried on fighting.
"After a few days she seemed to have turned a corner, but the sepsis (blood poisoning) started to affect her more and the decision of limb removal was made. The extent of removal was massive, full leg amputation and one arm, and plastic surgery.
"She was getting tired, her little body consumed by meningitis and sepsis. We had to make the decision, a massive operation and she may die or we let her go peacefully on her own accord.
"We decided the latter and then watched our little girl slip away. At 9pm on 14 February she finally fell asleep forever. All this in only 11 days."
Since September 2015, a vaccine to protect babies against meningitis B has been available on the NHS at aged two months, followed by a second dose at four months and a booster at 12 months.
If parents want older children to be vaccinated, they must pay privately.
The vaccine protects children against meningococcal infections including meningitis and septicaemia.
The petition is calling for a rollout programme to vaccinate all children, at least up to age 11.
At the time of writing, the petition had reached 283,000 signatures having originally aimed for 100,000.
Sue Davie, CEO, Meningitis Now said: "Our heartfelt sympathies go out to Faye's family and friends – they know we are here to support them in any way we can.
"The response to Faye's petition has been overwhelming, with signatures reaching over 250,000 in a matter of days.
"We are using our voice to support the petition to raise the profile of meningitis, keeping it high on the political agenda and increasing awareness among the public to prevent more lives being lost to this devastating disease.
"Although the introduction of the meningitis B vaccine on the childhood immunisation scheme for young babies was a momentous achievement, saving thousands of lives, there are still so many, like Faye, left unprotected.
"Moving forward, we continue to campaign to see the meningitis B vaccine rolled out, particularly to at risk groups to ensure a future where no one in the UK loses their life to meningitis."
Meningitis symptoms


Symptoms can appear in any order. Some may not appear at all.


For babies and toddlers:


Fever, cold hands and feet, vomiting, refusing food, dislike of being handled, sleepy, drowsy, floppy, unresponsive, pale/blotchy skin, spots/rash, crying, soft spot on child tense, child disliking the light, stiff neck and convulsions.


For children:


Fever, cold hands and feet, vomiting, drowsy, difficult to wake, confusion and irritability, severe muscle pain, pale and blotchy skin, spots/rash, severe headache, stiff neck, dislike bright lights and convulsions/seizures.
If you spot these symptoms, the NHS advises to "seek medical help immediately", stating: "This may mean going to the accident and emergency (A&E) department of your local hospital in the middle of the night".
For more information on meningitis symptoms and signs to look out for, visit MeningitisNow.org or call their helpline number 0808 80 10 388.
SEE ALSO:

Meningitis B Vaccine Now Given To Babies Across The UK Will 'Save Many Lives'

Charity Issues Urgent Meningitis Warning To Parents During High-Risk Period