When Kristy Stratton's mum was diagnosed with stage 4 lung cancer, she told her daughter that she wanted to know more about her daughter's life before it was too late.
Billie Jo Stimmel, 70, said she wanted to see where her daughter worked, where she lived and, most importantly, she wanted to see her marry the love of her life.
Kristy, 41, who is a flight attendant for Alaska Airlines, met her now-husband Jim Larsen, 39, on a flight from Los Angeles to Seattle back in 2010.
Six years later, she decided to hold a one-of-a-kind wedding on that very same flight to Seattle, so her mum Billie Jo could witness the many important aspects of her life, all rolled into one.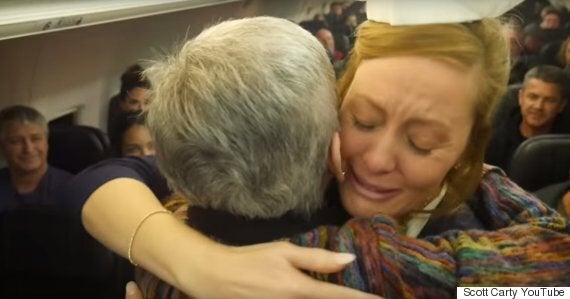 Kristy shares an emotional embrace with her mum Billie Jo after the ceremony
The packed flight was full of strangers, who were left brimming with curiosity when the in-flight crew handed out bubbly, chocolate, roses and confectionary.
But it all became clear one hour into the flight, when a member of the crew explained over the tannoy that Kristy was to marry the love of her life.
The cosy ceremony was a huge success and the couple exchanged rings and then pinned pilot wings onto one another's clothing.
They then walked down the flight aisle while passengers applauded them.
Kristy's wedding photographer Christina Frees, who is also a flight attendant, said that it was "the most unique wedding" she had ever been asked to photograph.
"Everyone's wedding is up to their own personal preference, but this was obviously special for many reasons," she added.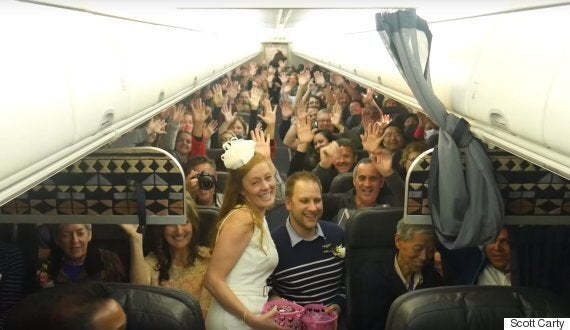 The happy couple pose with strangers who witnessed their marriage
On the day after their wedding, feet firmly back on the ground, the couple held a reception for 60 guests.
They then spent a few days showing Billie Jo around their home city of Seattle.
Kristy said: "My mom has been smiling for weeks. I love it. The wedding really lifted up her spirits and she even got to spend time with us in Seattle after, too."