We review the night's acts below...
The duo, who met and became friends when they both competed on 'The Voice', were the last to perform with their song 'You're Not Alone'.
The title and lyrics will also, no doubt, go down in storm in Europe with its message of togetherness.
The contest was presided over by 'Great British Bake Off' presenter Mel Giedroyc, who also included a tribute montage dedicated to Terry Wogan's mastery of Eurovision commentary.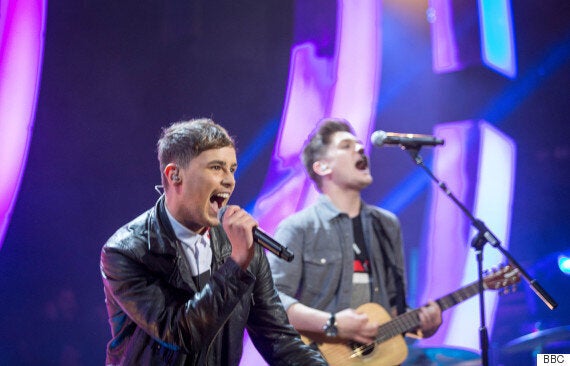 Joe and Jake will be taking UK hopes all the way to Sweden for the Eurovision Song Contest
Six acts, previously shortlisted by the BBC, performed for the chance to represent the UK in Sweden on 14th May.
Folky duo Dulcima gave it their jaunty best, but were somewhat hampered by the poor girl's initial nerves making her what Will.i.am would call "pitchy". Pity the song had to come in under three minutes, because she was giving it full throttle by the second chorus. Proper musicians, though.
Matthew James - 'A Better Man'
This song was the love child of Spandau Ballet's 'True' and Seal's Kiss from a Rose. Former Boys Band Inc-er Matthew could obviously sing, but this song was too slow for the job at hand, i.e. to keep a multi-million audience enraptured for three quick minutes. When he somehow managed to get to the key change before the chorus, all was sadly lost.
Darline - 'Until Tomorrow'
Two beautiful girls beaming their way through a catchy, toe-tapping, uplifting mid-tempo pub-pleaser. What else do you need? A whopping key-change, of course.
Karl William Lund - 'Miracle'
Elements of Coldplay in this chest-pounding, self-consciously anthemic number. Karl's voice was extremely Euro-friendly and he could hold the crowd. Nul points for the fist-clench, however.
Bianca - 'Shine A Little Light'
I have nothing to say about this song, sorry. After about 20 seconds, I was distracted by her scarlet cape and started you-tubing Madonna at last year's Brits. The good news is, it was only three minutes we're never getting back.
Joe and Jake - 'You're Not Alone'
The opposite problem from Karl William, this was a perfect Eurovision song let down by their reality-show audition voices. The good news is that can be improved between now and May, when they have to face the rest of 'Europe'. As far as their Euro-style is concerned, they only have to make one phone call. Jedward will surely be only too happy to help.
Do you think Joe and Jake can win Eurovision?
Related