Dolce & Gabbana has received widespread criticism for calling a shoe in their Spring 16 collection the 'Slave Sandal'.
The title was used to describe a pair of $2,395 flats on the designer's US online store.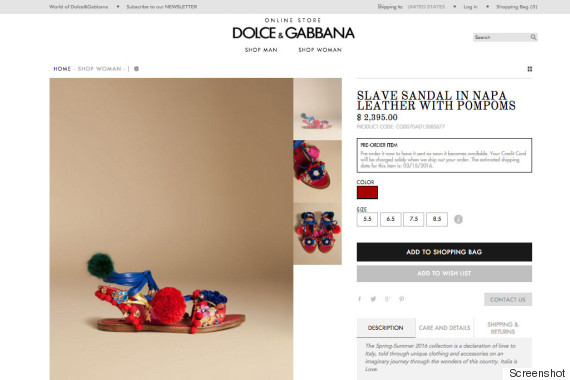 The shoe is not currently listed on the brand's UK retail site and the American listing has since been changed to read 'Decorative Flat Sandal In Napa Leather With Pompoms'.
But not before it attracted a lot of criticism on Twitter.
Dolce Gabbana decides to release "Slave Sandals" ... during fashion month ... when the diversity convo is more relevant than any other time

— Vogue Anonymous (@vogue_anonymous) March 3, 2016
Dolce & Gabbana. I love you, but why are you glorifying slavery? #slavesandals#fashionfail#marketingfailpic.twitter.com/rG0K2qkSYa

— fEROSh Lifestyle (@FeroshLifestyle) March 3, 2016
Yall gonna call these "slave sandals" and charge $2400 for them??? SOMEONE NEEDS TO FIRE THE ENTIRE PR INDUSTRY https://t.co/va97l1KCfv

— Bailey Herdé (@been_herde) March 3, 2016
The Dolce and Gabbana "Slave" sandals, only $2395. I'm waiting for the matching shackles 😳 pic.twitter.com/IJYt8Tarwk

— Dee Dee Dunleavy (@DeeDeeDunleavy) March 3, 2016
But some were quick to point out that the term 'Slave Sandal' is an alternative name sometimes used to describe a type of footwear more commonly known as the 'gladiator sandal'.
Political Correctness gone mad. It's just a type of sandal and they're common in Italy. #slavesandalshttps://t.co/45na5KOUEI

— Erna Glassford (@SimplyCheecky) March 3, 2016
According to Footwearnews.com: "While the term is, in fact, a description for a particular lace-up shoe silhouette, it is almost entirely obsolete with the now widely-preferred description 'gladiator sandals'."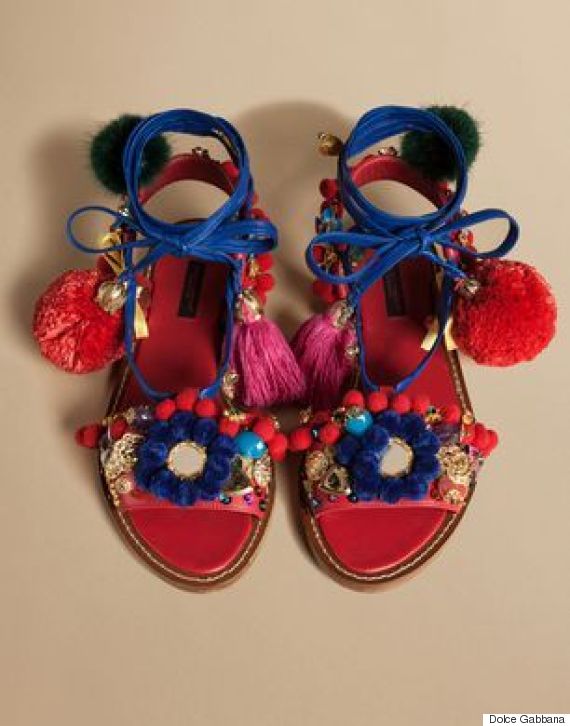 The Huffington Post UK has contacted Dolce & Gabbana for comment.
SEE ALSO:

The Future of Fashion? More Diversity

Jourdan Dunn Wants To Change The Conversation About Race And Fashion

10 Reasons Charlotte Olympia's #LFW Show Was Out Of This World
ALSO ON HUFFPOST: