Livingstone compared former Army major Jarvis to "Jimmy Savile fundraising (for) a children's group" for taking £16,800 from a hedge fund guru.
The defence of the Barnsley Central MP - an Afghanistan and Iraq veteran who received an MBE for creating a training system to teach troops how to spot improvised bombs - was instant.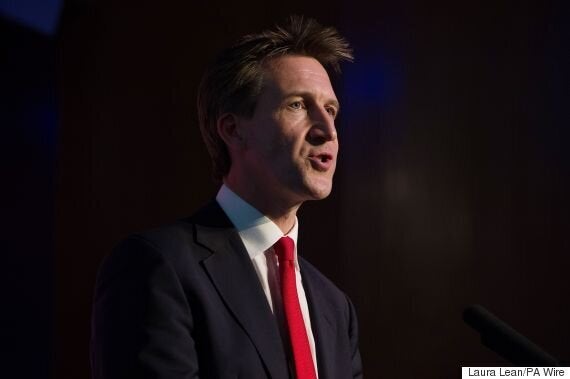 Michael Dugher, a former shadow minister, told HuffPost: "Ken Livingstone is not fit to lace Dan Jarvis's boots."
Labour's Jamie Reed, also an ex-frontbencher, told HuffPost: "There's no sewer so fetid that Ken won't swim in it. No regard for the victims, no regard for the pain and anger he will have caused, and no care for the damage he continues to do to Labour. It's another embarrassment. I look forward to his shame-faced apology for his latest sickening outburst."
An unnamed Labour MP said: "Dan Jarvis risked his life serving his country and fighting terrorists. Ken spent his life serving himself."
Others weighed in on Twitter. Ian Austin said the comments were "disgusting, disgusting, disgusting, disgusting", and Toby Perkins that they were "offensive and stupid".
Labour-supporting comedian Matt Forde argued he would have been suspended if not close to Labour leader, Jeremy Corbyn. Livingstone is currently co-chairing a controversial review of the Trident nuclear weapons system.
The money came from Martin Taylor, one of the Labour Party's biggest private donors. He donated £600,000 to Labour under Ed Miliband and the money handed to Jarvis was viewed by some as grooming him to challenge Corbyn for the leadership.
The comments came as Jarvis gave a speech that set out his economic vision for Labour, which some will have read as the first step to a leadership bid. The MP was careful not to make any criticism of the leader.
Speaking on Thursday night he told LBC's Iain Dale: "The other thing you have to say about Dan Jarvis: If you're really Labour what are you doing taking donations from hedge fund managers - the most rapacious and damaging form of capitalists that we've had.
"It is absolutely bizarre. It's a bit like Jimmy Savile fundraising [for] a children's group."
Livingstone was labelled "shameful" last year after saying Tony Blair "ignored" security service warnings that invading Iraq would cause terrorist attacks on British soil.
On BBC's Question Time, the former London mayor highlighted the 7/7 bombings in London as a reason why the UK should not get involved in airstrikes in Syria - and claimed terrorists "gave their lives" and "took Londoners' lives in protest against our invasion of Iraq".
In a significant move to raise the bar for the elections on May 5, Jarvis said his party should be "taking" not losing councils in England and should be making "progress" in Scotland.
The ex-paratrooper, who gave up his military career to become an MP in 2011, had been seen by many in the party as an ideal candidate to give the party a fresh start after last year's election defeat but opted not to run.
In 2010, his wife died of cancer at the age of 43 after a four-year battle, leaving him the single father of two children - then aged eight and six. He has since remarried.
He said when revealing he would not run: "My eldest kids had a very tough time when they lost their mum and I don't want them to lose their dad. I need some space for them, my wife and our youngest child right now, and I wouldn't have it as leader."