Boris Johnson today backed the UK getting a post-Brexit deal with the European Union which would not involve the freedom of movement of peoples into Britain.
Speaking at a Vote Leave campaign event in Dartford, Kent, this morning, the London Mayor praised the trade deal secured by Canada with the EU, which does not support freedom of movement.
Addressing workers of the logistics firm Europa, Johnson attacked those campaigning for Remain as "gloomadon poppers" as he talked up how the UK could "thrive" post-Brexit.
When pushed by the Huff Post UK to clarify whether he felt freedom of movement laws would have to be maintained with the EU to allow businesses access to the Single Market, Johnson said: "I don't think that that is necessary - I think we can strike a deal as the Canadians have done based on trade and getting rid of tariffs."
Johnson's speech got off to an inauspicious start after arriving 40 minutes late, leaving workers waiting in the cold warehouse.
After blaming South East trains for his later arrival, Johnson delivered a typically rhetoric-filled speech to the more than hundred workers present – although he did get the date of the referendum wrong.
He said: "If we hold our nerve and we're not timid and we're not cowed by the gloomadon poppers on the Remain campaign and if we vote for freedom and the restoration of democracy on June 3 [the referendum date is June 23] then I believe this country will continue to grow and prosper and thrive as never before."
When asked by one worker what the "downsides" would be of the UK leaving the EU, Johnson replied: "I don't think there are any substantial downsides I really don't. I've thought about this for a long time I think the only thing we have to fear is fear itself, so to speak, and even fear isn't completely scary at the moment."
Johnson drew applause from the crowed when he criticised BBC Radio Five journalist John Pienaar for asking if he had ambitions to be Prime Minister.
The Upminster MP said: "Can I just say how deeply disappointing it is that you have come, you've tackled South East trains, you've come all the way here, you've stood with these wonderful people here in Europa and all you can ask about is this narrow question of personality politics."
After making the criticism, Johnson posed for selfies with Europa workers and then drove a specially-branded 'Vote Leave' HGV across the warehouse forecourt for a publicity stunt.
Chuka Umunna MP, a backer of the Britain Stronger In Europe campaign, dismissed Johnson's comments, and said: "Boris Johnson may provide entertainment, but he had no answers on what Britain's future outside the European Union would look like.
"He said we could have a relationship with Europe along the lines of Canada's. But that is a deal that would make British people worse off with higher prices in the shops and fewer jobs.
"Until we get a clear vision from the people who want to take us out of Europe, leaving is a leap into the dark that will put families' financial security at risk."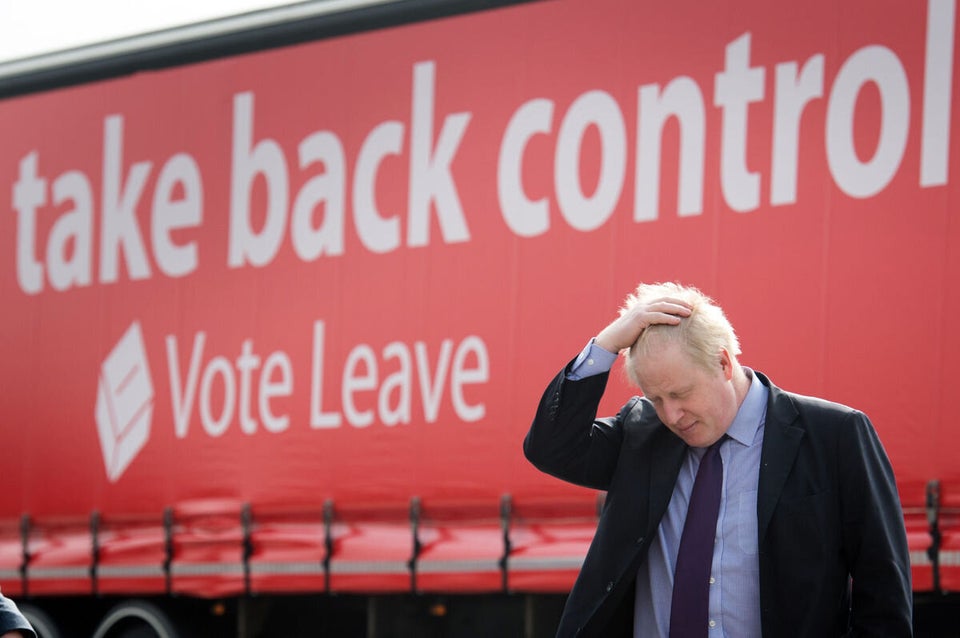 Boris Johnson at the Europa Worldwide freight company in Dartford