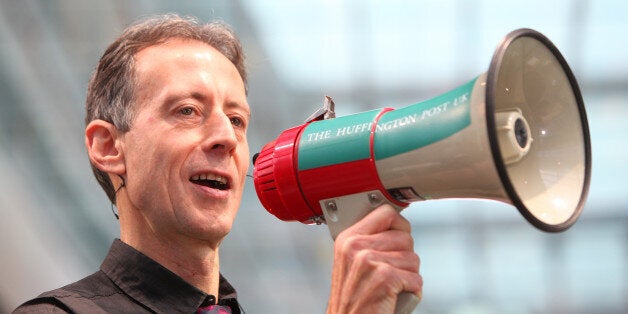 Academics and campaigners including Peter Tatchell, AC Grayling and Richard Dawkins are supporting a protest outside the National Union of Students headquarters in London.
The protesters want a revision of the "safe space and no-platform policies, which restrict freedom of expression".
The Council of Ex-Muslims of Britain (CEMB) has organised the rally, due to take place on March 17.
"Educational institutions must be a place for the exchange and criticism of all ideas. Bigoted ideas are most effectively defeated by open debate," the CEMB's letter to the NUS reads.
"The student body is not homogenous. The NUS's restrictive policies infringe upon the right of students to hear and challenge dissenting and opposing views," it continues.
High profile names like Julie Bindel and Brendan O'Neill have joined Tatchell, Grayling and Dawkins in signing the letter, as part of a rising backlash against the student left's perceived attack on free speech.
Over the past few days Tatchell has been tweeting his support for the rally, and wrote on his personal website: "Challenge all bigotry & hate but also defend free speech. Join us!"
The protest comes after Tatchell himself was subjected to a "variation of no-platforming" earlier this year.
On 15 February Tatchell was due to speak in a debate at Canterbury Christ Church University titled 're-radicalising queers'.
But fellow speaker Fran Cowling, an NUS LGBT representative, refused to speak alongside him.
In private emails Cowling accused Tatchell, a long time advocate for human rights, of transphobia and racism.
Cowling expressed concern about the open letter sent to The Observer which Tatchell signed. The letter defended free speech and spoke out against the 'no platforming' of non-violent individuals such as Germaine Greer.
Tatchell, who has consistently spoken out against transphobia, homophobia and racism, has said that he "totally disagreed" with Greer's views, but thinks that unless there is incitement to violence, it better to debate opposing views rather than silence them.
NUS vice president for union development Richard Brooks said: "NUS is proud of its no platform policy. It acts to defend free speech by calling out violence, hate speech, bullying and harassment, which allows debate to take place without intimidation.
"The NUS No Platform list, voted on at National Conference every year, contains just six facist and racist organisations.
"If the protestors would like to come earlier, when the offices are open, we can offer them tea or coffee."
Related