This Easter, Cadbury is helping families across the UK celebrate with the Cadbury Easter Bunny trail, when this elusive fellow will hide thousands of Cadbury iconic purple eggs throughout the country.
At Loch Ness in Scotland on 1st March, visitors were astounded by the appearance of three distinct shapes in the water, reminiscent of photographs purported to be the elusive Loch Ness Monster. In fact, the mysterious sighting was none other than three giant Cadbury Easter Eggs rising out of the water. The eggs were so big that the largest rivalled a double decker bus and it took 1km of Cadbury purple foil just to cover them!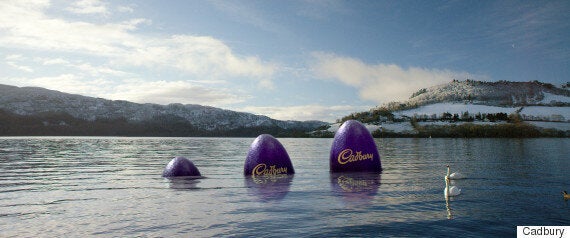 As well as plenty of delicious samples, Cadbury also donated £5,000 to the Loch Ness Visitor Centre and £1,000 to the Loch Ness Lifeboat Station (RNLI).*
The Cadbury Bunny then surprised the locals at Camber Sands beach on 4th March. Four enormous purple eggs were scattered across the sand, as if dropped by an imaginary giant in a giants' Easter egg hunt.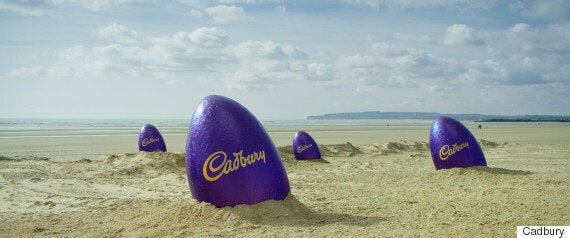 Each measuring eight feet in height and four feet in width, the larger-than-life eggs weighed a colossal one hundred kilograms in total. That's an eggstraordinary amount of chocolate!
Bunny then got busy at London Aquarium, surprising visitors there by bravely submerging an 80kg egg in one of its most popular exhibits: the shark tank!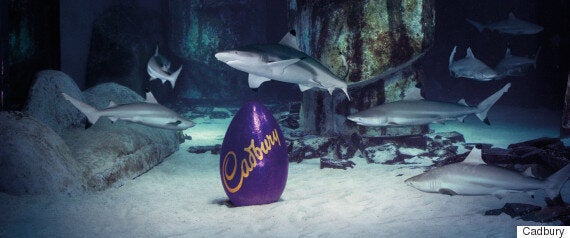 With the tank being home to a variety of sharp-toothed critters including a black tip shark, a nursing shark and a lovely stingray called Betty**, it took the bunny (er, actually five divers and a couple of hours) to put it in place.
Visitors passing by Madam Tussauds in London or visiting Dover's famous white cliffs would have been surprised to discover them lit up with some eggstraordinary light projections - of massive purple eggs, of course.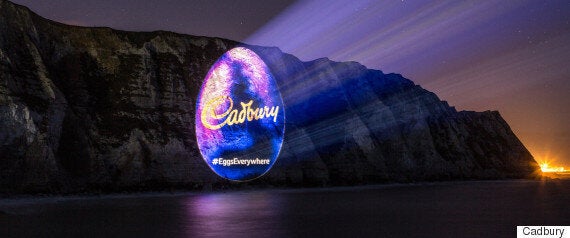 Once again this year Cadbury has teamed up with the National Trust to offer families a fun-filled day out with their popular Easter Egg Hunts taking place across the country.
From spring woodlands and craggy coastlines, to historic houses and enchanting castles, there are over 250 Cadbury Easter Egg Hunts to choose from across England, Wales and Northern Ireland...
At the end of each Easter egg hunt, everyone will be rewarded with a delicious Cadbury chocolate treat and every single Cadbury Easter Egg Hunt will help support special places looked after by the National Trust for future generations to explore.
Cadbury and the National Trust are offering twenty lucky Huffington Post UK readers a National Trust Gift Card worth £99 AND a Cadbury Deluxe Hamper full of mouth-watering chocolate and sweets.
***THIS COMPETITION HAS NOW CLOSED - MANY THANKS***
*All materials used in the stunt were safe for local marine life, wildlife and monsters.
**All materials used in the stunt were safe for sharks and stingrays.