The five things you need to know on Monday March 21, 2016…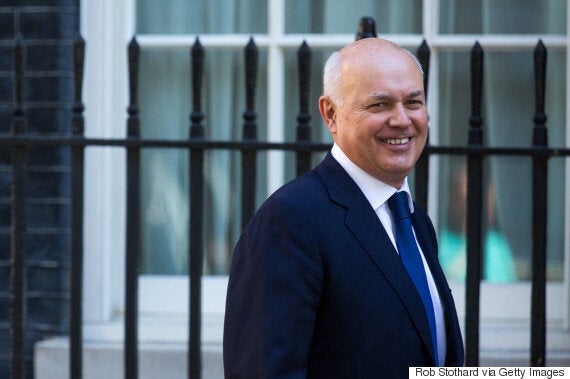 David Cameron will use his Commons statement on the EU summit to finally respond in person to an extraordinary few days for the Tory party. The IDS of March have certainly threatened the credibility of his Chancellor's Budget, Cameron's core political message and both their futures as Prime Minister and Prime Minister-to-be.
No.10 sources say that in his answers after the statement, the PM will make a very robust case for the One Nation and the Compassionate Conservatism agenda on which he fought - and won - an election less than a year ago. When he's had a chance to get away from the EU referendum, that's certainly been his message since the election, with his Tory conference speech and speeches since on sink estates, prison reform, the National Living Wage. Expect him to ram home his line "One Nation" policies have seen nearly 500,000 fewer kids in workless households, over 1 million fewer people on out of work benefits and well over 2 million more people in work.
But the compassion bandwagon is getting a bit crowded. IDS's longest held beef is that he's the real inheritor of Disraeli-style care for the poor. And that Osborne is more interested in saving money than saving lives. Few fail to spot the irony that the Cameroons helped topple IDS as leader precisely because of the 'nasty party' branding. Some on the Right have long suspected Osborne and Cameron shift with the wind, not least given their backing for Labour's spending plans before the crash.
IDS's most damning line yesterday (and sure to be used on Labour's 2020 election posters) was that Osborne targeted the poor because he knew they 'don't vote for us'. Expect Labour to punch hard on this theme on council housing plans too. But some Labour MPs know that their own problem is winning back those who DID vote Tory. And for all its faults, Osborne's Northern Powerhouse is aimed at a long-term plan to rebuild the party in the North.
Yet it is pounds and pence that are the real issue for Osborne and Cameron right now. If, as expected, Stephen Crabb confirms his dumping the PIP cuts plan, just where does the Chancellor get the missing £4bn for the Red Book? Frank Field said last night on Westminster Hour that Osborne miraculously plans on finding £30bn by 2019, so another £4bn won't be hard to massage.
Crabb is in a very strong position to insist he's in charge of his own department. Dumping pensioners' perks not only raises small sums but it would break manifesto pledges. Unpicking that triple lock on actual pensions raises big sums but seems an article of faith for the PM. So just how will the welfare cap (which IDS dumped on yesterday) ever be met? And will Crabb insist it's time for a rethink?
Cameron and Osborne have been a close pairing ever since Dave decided he had the bottle for the leadership back in 2005. But that's not to say they have always agreed on everything, or even been that close as family friends (there is an age gap don't forget). In recent weeks, there has been muttering among Tory MPs of a growing distance between them.
Today's Times splash quotes a Cabinet minister suggesting the PM had blamed Osborne for the Budget/disabilities/IDS blunder. "Cameron said in no uncertain terms that Osborne had messed up, it was all his fault and would have hell to pay in the papers," the source said. No.10 has been pretty swift in denying the Times splash: "This story is not true. It's total nonsense."
True or not, will Osborne now give up on his leadership ambition and quietly position himself for the Foreign Office after an EU referendum win? He once told a schoolmate he was going to be PM one day, which kinda suggests he may not give up without a fight. Once the aftershocks of the IDS resignation die down down a bit, he will ponder on how being tough on the deficit and on welfare could ever be a vote-loser in the Tory leadership race. The answer is, of course, his huge handicap of being an Inner.
The Sun reports David Davis saying Osborne can now never be leader (and he should know), while the Treasury must be smarting from Heidi Allen's own take on the Chancellor's woes. Norman Tebbit tells the Mail: 'This is a colossal failure of man management by the Prime Minister. The main criticism of George Osborne is that he has not learned from the tax credit shambles."
As for IDS, I'm told we won't get a Geoffrey Howe moment just yet. He will not be making his 'personal statement' (which cannot be interrupted don't forget) to the Commons today.
With mutiny in the air, Cameron will want to calm things today but Osborne has some big calls to make on the Red Book, and needs more than fine words. With two rebel amendments on the Budget (on VAT rates on solar panels and tampons) tomorrow, he needs to find answers, and fast.
And here's final thought. Some Eurosceps think that with Osborne on the run, their best hope is to hammer away. Just imagine if Grayling or Priti Patel now also quit (many think there's no Cabinet comeback after June 23), citing the gag on them over Brexit? A rolling wave of resignations…is that too outlandish? The fact it's even being discussed tells you everything.
Jeremy Corbyn was on the airwaves today demanding Osborne should 'consider his position'. But Piers Morgan, co-presenting Good Morning Britain, suggested the Labour leader was not "a big beast in the jungle, smashing your chest and ripping into the Tories". Jezza, without doing a Tarzan, quietly disagreed.
Many of Corbyn's allies think that the Tory civil war proves that Labour would be mad to start any moves to remove its own leader. For now, the job of the Opposition is to oppose and oppose effectively.
Yet Chuka Umunna has a speech today making the point that the greatest sadness is not that IDS left it so long to discover the unfairness of his welfare cuts but that polls show the public agreed with many of the unfair things he was doing. He is unveiling fresh data to highlight the lack of understanding and the division between working and middle class Britain. Some in Labour worry that opposing disability cuts is the easy bit, supporting wider welfare reform is the really tough bit.
And Labour's internal woes haven't gone away. Lord Levy yesterday threatened to quit unless Corbyn sorted the anti-semitism issue (Corbyn told Sky this morning he had spoken out seven times against anti-semitism).
The Telegraph meanwhile reports that veteran leftwing NEC member Christine Shawcroft has said that UK soldiers should "get the teabags out" for ISIL terrorist to solve the Syrian crisis rather than resorting to air strikes. Claiming the tactic worked on some far-right English Defence League supporters in the past, she added: "Cups of tea might actually be the best kind of system of defence and national security that you could have." She said her remarks were 'jocular' but had a serious point.
Sadiq Khan has a speech on security today. London also has some good news for the leadership: with seven weeks to go until London's Mayoral election, a new poll by ComRes for ITV News London and LBC reveals that Khan leads Zac Goldsmith by 6 points: 53% to 47%.
Dan Jarvis has blogged for us on the need to keep the pressure up over Tory cuts to benefits.
BECAUSE YOU'VE READ THIS FAR…
On another day this story would be leading the news. But it is still hugely significant. David Laws' memoir extracts in the Mail on Sunday yesterday (followed up by the ex Lib Dem minister on Marr) allege that NHS chief exec Simon Stevens was 'leant on' by No10 and the Treasury to reduce his demands for the amount of cash the health service needed. Instead of the £16bn he wanted, he was told to 'get that figure down'. Instead, an £8bn figure was pushed and eventually included in the Tory manifesto. Indeed, Osborne promised he'd go further with £10bn extra being pumped in.
In fact, NHS England points out Stevens always backed a range of options from £8bn as a minimum to £21bn as a maximum needed in extra cash. "We stand by this analysis and were not 'leant on'. David Laws was not part of these discussions, and has no first hand knowledge of them," a spokesman says. So there. (Also, I remember Clegg and co themselves talking about the £8bn figure at the time, and boasting they were the first to commit to it, but hey ho). Stevens is a pretty good poker player, and may like the fact the ante has just been raised.
Anyway with the junior doctors strike looming next month again, the BMA has added to the pressure. The Guardian reports that the docs saying only half the promised £10bn has materialised. The Sun has its own take, with a splash that one NHS trust spent £181k treating one illegal immigrant.
Labour peer Alf Dubs was just six years old when the Kindertransport project rescued him from Nazi-occupied Czechoslovakia and took him to Britain. All these years later, he's leading a Parliamentary battle to offer similar help to unaccompanied Syrian child refugees across Europe.
In the Lords today, his amendment to the Immigration Bill - backed by Labour, the Lib Dems and many cross benchers - looks like winning approval. It would force the government to "relocate 3,000 unaccompanied refugee children who are in European countries to the United Kingdom.
Home Secretary Theresa May - who was pictured in her local paper last week holding up a new Royal Mail stamp bearing the photo of 'Britain's Schindler', Sir Nicholas Winton - has held talks with Lord Dubs in a bid to find a compromise. But he refused to back down over his demand that children who have already made it to Europe should be allowed into Britain.
Yvette Cooper and Tim Farron have been consistently pushing this issue (Paddy Ashdown is also pushing for protections for Afghan interpreters). Yet the keys to a Government defeat would be once again patient alliance-building and a canny Opposition Whips office. Compassionate Conservativism could show its true colours with a concession today…
If you're reading this on the web, sign-up HERE to get the WaughZone delivered to your inbox.
Got something you want to share? Please send any stories/tips/quotes/pix/plugs/gossip to Paul Waugh (paul.waugh@huffingtonpost.com), Ned Simons (ned.simons@huffingtonpost.com), Graeme Demianyk (graeme.demianyk@huffingtonpost.com) and Owen Bennett (owen.bennett@huffingtonpost.com)