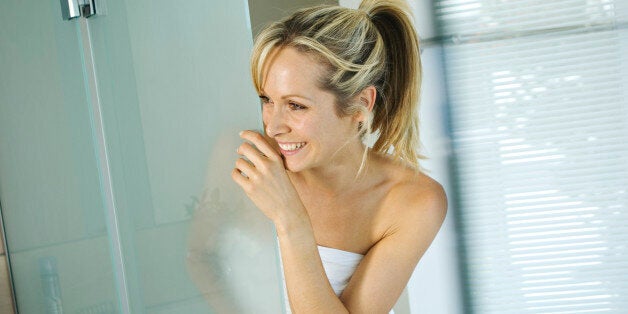 When it comes to our daily skincare routine, we all have our unique approach. For some, it's focusing on gentle products that are kind to our skin. For others, it's locking ourselves away in the bathroom and indulging in decadent pampering treatments – or the opposite: finding skincare shortcuts to squeeze into our hectic lives.
Skin care sins are rife when time becomes tight, from sleeping in your makeup, to using below par products to save precious minutes in the morning. Often, we only focus on the face, forgetting that as the body's largest organ, the rest of our skin needs love and attention too.
Yep, we've all been there - no time to properly give our skin the attention it deserves. Luckily, it's now possible to start caring and protecting our skin from the moment we step into the shower - making use of those precious minutes in the morning . Dove's newly revamped Body Wash range for example, will care and protect your skin while you're showering. You wont even need to think about it - now that's the kind of regime we can get on board with.
Kinder to skin, the range contains a formula called NutriumMoisture™ , which combines a mild and gentle cleanse with a rich lather - the holy grail of bathing combinations. Skin is left feeling beautifully soft because this breakthrough formula contains skin-natural lipids and moisturisers that help to strengthen the skin's natural moisture barrier.
To find out how well you really treat your skin, and discover which Dove Body Wash is right for you, take our quiz…
While we have your attention, we'd love to tell you about some really important work Dove are championing, called the Dove Self Esteem Project. Dove are on a mission to ensure that the next generation of young people grow up enjoying a positive relationship with the way they look. Through workshops in schools, online resources and outreach work, they want to ensure young people reach their full potential. To find out more and get involved visit: selfesteem.dove.co.uk/