The five things you need to know on Friday, October 7…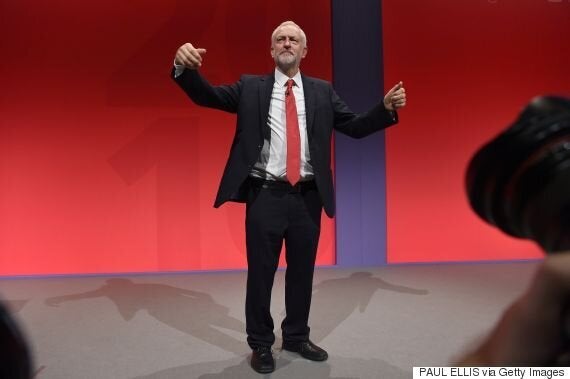 This morning's reshuffled Waugh Zone is by Ned Simons - as I live in North London and that is politically on-trend right now. Paul is away.
Diane Abbott is shadow home secretary. Baroness Chakrabarti is shadow Attorney General. Keir Starmer is shadow Brexit secretary. And last night Clive Lewis had all his speeches completely re-written to make them about business, energy and industrial strategy. Anti-Trident Nia Griffith replaces him as shadow defence secretary. Jeremy Corbyn is very much the leader of the Labour Party.
This morning Jo Stevens, the new shadow Welsh secretary, said she was "very sorry" Corbyn had dumped Rosie Winterton as Chief Whip. But added she thought Nick Brown, who returns to the job having been sacked by Ed MIliband six years ago, would do a "great job". Stevens, who backed Owen Smith in the leadership campaign, told BBC Radio 4's Today programme her appointment showed Corbyn was reaching out to all sides of the party. There are, she said, "plenty of issues that will unify" Labour MPs with its leadership against the Tories.
But one ex-shadow cabinet minister said the sacking of Winterton showed Corbyn was not interested in offering an olive branch to the PLP - and predicted trouble ahead. "He's not reaching out to anyone who publicly spoke about reasons why they resigned or to those who wouldn't serve in 2015," they told me. "I think he thinks he's in a stronger position than he is and will struggle to fill junior roles."
Eyebrows have also been raised at the Islington-centric nature of Corbyn's top team. Corbyn, Abbott, Starmer and shadow foreign secretary Emily Thornberry all represent seats within walking distance of each other in North London. The senior shadow cabinet cluster makes even John McDonnell, sitting out in West London, look exotic. Corbyn's team subtly responded to the criticism by releasing a list of the ten frontbench MPs who are from the north of England. Including Jonathan Reynolds, who will serve as shadow City minister.
The reshuffle is set to continue today. We should be, among others, expecting a new shadow culture secretary as Kelvin Hopkins has made it clear he wants to return to the backbenches. Former shadow housing minister John Healey is one name expected to return. HuffPost is looking forward to some more exciting adjectives in Labour reshuffle press releases. Yesterday Starmer was described as "vital", Griffith "effective", John Trickett "outstanding" and Lewis "dynamic".
There were titters yesterday when Corbyn tweeted that "as a proud Welshwoman". he welcomed Stevens appointment as shadow Welsh secretary. A spokesperson for the Labour leader dryly cleared this up this morning: "he was referring to Jo being a proud Welshwoman".
Steven Woolfe, the favourite to take over as Ukip leader, is recovering in hospital this morning after getting into a "scrap" with fellow MEP Mike Hookem at the European Parliament yesterday. Woolfe tells the Daily Mail Hookem "came at me and landed a blow" following a tense meeting of the party's MEPs in Strasbourg. Nigel Farage, who is (obviously) Ukip leader again until a replacement for Diane James is found, said the fight was "one of those things that happens between men". Which if true, suggests I am fortunately doing being a man wrong.
Tony Blair has given a strong hint that he could make a return to frontline politics, declaring he is "very motivated" to tackle the Tory party's vision of Brexit Britain. The former Prime Minister told Esquire magazine that a weak Labour party, with little appeal to mainstream voters, was allowing the Conservatives to run "a one party state". But in his clearest suggestion yet that he wants to come back into the battle against the Tories, Blair said it was "an open question" what his future role would be. Now I know we have been promised some "eye openers" in Corbyn's reshuffle, but seriously...
Donald Trump on Thursday held a rare town hall event in New Hampshire that looked a lot like a trial run for Sunday's second presidential debate with Hillary Clinton. The Republican rarely appears before small audiences, preferring raucous campaign rallies in large arenas, so Thursday's town hall provided him an opportunity to practice speaking in a more intimate setting and to prepare for Sunday's town hall-style event with Clinton. However it was not exactly a grilling. Questions included "What would you say to convince Hispanics who are deceived by Obama, Clinton and the biased media to vote for you?" and "What is your favorite childhood memory? Go Donald."
The row over Amber Rudd's proposal that firms list the number of foreign workers they employ continues. The home secretary's brother, Roland Rudd, has had a pop. "Those of us who want a sensible Brexit, who want Britain to remain a beacon of tolerance and who find the denigration of non-British workers appalling have a duty to speak out,' he writes in the Evening Standard. "Try and stand up for a multiracial Britain and you are labelled part of the liberal elite; point out the £20 billion net contribution from immigrants over a decade and you are told you are not listening to the people; oppose hate crime and you are mocked for political correctness. It is easier to vilify foreigners in the new Britain than it is to espouse European values."
If you're reading this on the web, sign-up HERE to get the WaughZone delivered to your inbox.
Got something you want to share? Please send any stories/tips/quotes/pix/plugs/gossip to Paul Waugh (paul.waugh@huffingtonpost.com), Ned Simons (ned.simons@huffingtonpost.com), Martha Gill (martha.gill@huffingtonpost.com) and Owen Bennett (owen.bennett@huffingtonpost.com)