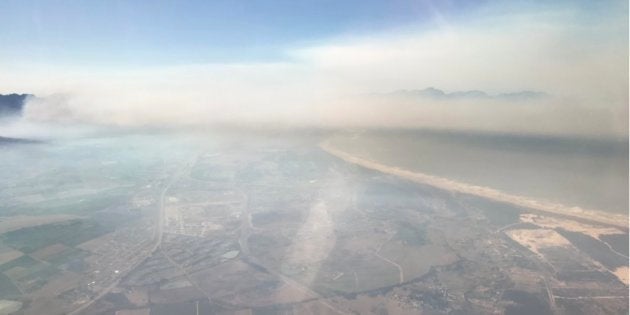 Members of the public should avoid the Somerset West area if possible because wildfires, which are burning for the second consecutive day, have made it dangerous.
"For the public, I'd advise them to stay away from these areas because it's very dangerous... It's very, very unsafe," Robert van Wyk, a nature conservationist for the City of Cape Town, said on Wednesday.
He added that smoke from the fires was making visibility in the area poor.
Firefighters had turned their focus to the Vergelegen area, as flames spread there.
City of Cape Town fire department spokesperson Theo Layne on Wednesday also urged people to avoid the fire areas unless they had business there, so that the steady stream of emergency vehicles could pass through as quickly as possible.
He made a special request that people not stop on the side of the roads, particularly the N2, to watch the fire, because the emergency vehicles were moving through the area so quickly and needed the route to be as clear as possible.
Layne said more than 100 firefighters had worked through the night to control the blazes burning around the picturesque Helderberg mountains near Somerset West.
The shift that relieved the exhausted overnight team, who were at the fire line from 14:00 on Tuesday to 09: 00 on Wednesday, would focus on keeping farmland and residential property safe as they headed into the fire line on Wednesday morning.
Fires were located mainly around the Bezweni Lodge, Knorhoek, the Vergelegen Farm and McGregor Farm.
'People have been excellent'
The 120 firefighters on the scene on Wednesday were being assisted by three helicopters and two fixed-wing aircraft which were dropping water on areas difficult to reach by foot.
On Tuesday night, a mass evacuation of people, livestock and horses took place, but most were able to return to their homes by Wednesday morning.
The Tre Donna housing estate was also evacuated.
Meanwhile, the surrounding communities have sprung into action to help, with the Somerset Neighbourhood Watch keeping up a steady supply of water, eye drops, energy drinks and energy bars for the firefighters continuing the massive push against the flames.
"People have been excellent," said neighbourhood watch co-ordinator Gail Devonshire.
Volunteers were ferrying the supplies to firefighting crews, which are from the City of Cape Town, Working on Fire and Cape Nature.
Layne said Sir Lowry's Pass had reopened, after it had to be closed on Tuesday, but access to the village itself was still blocked to give emergency vehicles clear access. -- News24Wire