The five things you need to know on Thursday, January 26…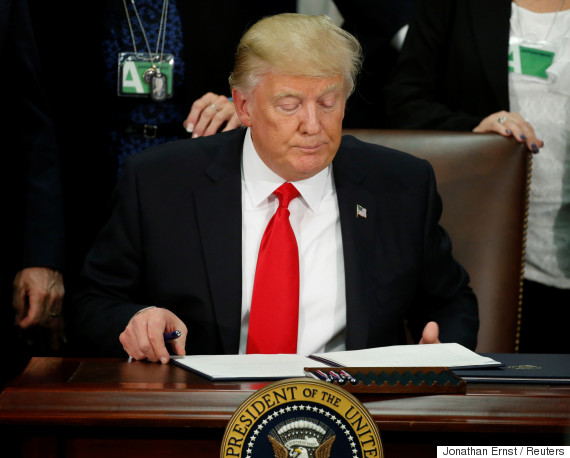 Due to a misfired executive order, this morning's Waugh Zone is by Ned Simons. Paul is away.
1) GRABBING HIM BY THE QUAICH
Judge Donald Trump by his actions not his campaign rhetoric, said people who believed the two things to be different. The new US administration is reportedly hoping to reopen CIA black sites which were used to torture people. The president, in an interview last night, said he "absolutely" thinks waterboarding works. Into this today, flies Theresa May.
The prime minister is already under pressure to distance herself from Trump. Ed Miliband tweeted last night "surely decent Tories feel queasy" about cosying up to president. While Tory Sara Wollaston added: "you cannot lead on a global stage by advocating torture, disgusting racial stereotyping and turning back the clock on women's rights worldwide". Even JK Rowling has had a pop. In the US, Republican senator John McCain's response was swift. "The President can sign whatever executive orders he likes. But the law is the law. We are not bringing back torture in the United States of America," he said. Yesterday, Downing Street said it would "differ in approach and view with President Trump" on the issue of torture.
As Paul reports, ahead of her visit to the White House on Friday, May will use a speech to the Republican party's Congressional conference in Philadelphia to underline historic transatlantic links as well as future opportunities for cooperation on trade and security. She will tell the Americans she wants the US and UK to "lead, together, again". The prime minister is also to present Trump with a traditional Scottish friendship drinking bowl known as a quaich - or "loving cup".
The PM will be the first foreign leader to visit the White House since Trump took office last week. It is a diplomatic coup for London. However the PM will have to tread carefully when she steps off the plane in Washington - incase she gets trapped in any of the lies being thrown out by the new government.
Trump has moved quickly to advance plans for his wall, ban funding for abortions, shut down communication about climate change and kill off the TPP free trade deal. A restriction on refugees from some majority Muslim countries is expected. All of this is in the shadow of the White House's desire, due to the president's apparent childish obsession with size, to needlessly say things that are simply not true. Thumbs up all round. Pity the poor chap that has to deliver the results to the Oval Office of the investigation into mass voter fraud that did not happen.
2) FINGER ON THE TRIGGER
Its name is the European Union (Notification of Withdrawal) Bill. It will be presented to the House of Commons today. And when passed, it will take the United Kingdom out of the EU. Theresa May went to the Supreme Court to try and stop MPs and peers having their say, but she lost. She also yesterday caved to pressure to produce a formal government white paper. Helpfully, Brexit secretary David Davis is due in the Commons to answer departmental questions at 9.30 this morning.
As is repeatedly said, parliament will not block the Brexit Bill. But that doesn't mean it can't have a lot of fun along the way. And it's in the Lords that things could get most interesting. The Huffington Post understands the second reading of the Bill in the Lords will be straight after the half-term recess and is likely to go into a second day due to the anticipated high number of peers who will want to speak. Lords committee stage is expected towards the end of February to accommodate not so much multiple amendments, but longer than usual debates due to speakers again wanting to get their views on the record. Report and third reading should come during the early third of March - probably falling within the same 24-hour period. It's rare that peers vote at second of third reading. And rarer still on the principle of a Bill. So it's most likely any changes will be at committee stage.
If this timetable holds then the Bill should be done and dusted by mid-March, easily allowing the prime minister to meet her deadline of triggering Article 50 by the end of that month.
3) STOKED UP AND READY TO GO
As our Martha Gill first reported last night, the Conservatives have chosen Trudy Harrison as their candidate for the Copeland by-election in Cumbria and Jack Brereton as their candidate in Stoke-On-Trent Central. Harrison runs community projects in Cumbria, while Brereton is a 25-year-old Tory councillor in Stoke-on-Trent. He became one of the party's youngest councillors when he was elected aged 19 in 2011.
As we have previously reported, the Tories are taking their foot off the pedal in Stoke - where Labour has now chosen Gareth Snell as its candidate to fight Paul Nuttall. Snell's Twitter account is getting a bit of attention this morning, including a declaration of "Soft Brexit, Hard Brexit, massive pile of Sh*t, Sloppy Brexit, Messy Brexit, Quit, Quit, Quit." He has since said he will not "impede" Article 50 should he win the seat.
Politics Home reports this morning that the Tories were sniffing around Copeland before Labour's Jamie Reed even stepped down. Reed reveals he was approached by "two Tory grandees" in April to defect from Labour to the Conservatives.
BECAUSE YOU'VE READ THIS FAR…
Is it just me, or are British party political broadcasts getting a bit better? The Lib Dems have a new one out which sees a couple struggling to deal with Brexit over breakfast. There's a good David Cameron humming gag in there too.
4) HUMANITARIAN INTERVENTION
A report that was to be launched by murdered MP Jo Cox urges the UK to continue intervening in international conflicts despite calls to retreat following the second Iraq war. The paper was to be published by the late Labour MP and former humanitarian worker alongside Tom Tugendhat, a Tory MP and ex-soldier, and warns "knee jerk isolationism" will have "dangerous implications for national security and the safety of civilians around the world". It cites the successes of creating no-fly zones Iraq in 1991, the Kosovo intervention in the late-1990s and action in Sierra Leone in 2000, and states, in a coincidental echo of May's planned speech to the Republicans in the US, Cox believed "Britain must lead again". Cox's friend and Labour MP Alison McGovern completed the work, which has the consent of Cox's husband, Brendan.
5) REFUGEE LETTER TO THE PRESIDENT
As highlighted above, the Trump administration is expected to make moves to keep out people from several Middle Eastern countries. HuffPost's Dawn Kelly and Lucy Sherriff are reporting from a refugee camp in Lebanon this week. In this video, nine-year-old Ali Harba explained why he would like the president of United Sated to come to his birthday party. Ali does not know who Donald Trump is or that the American president is expected to sign an executive order making it harder for refugees like him to find sanctuary. He is originally from Qusair, near Homs in Syria, but fled with his mother, brother and cousins four years ago when his father was killed. Ali has a speech impediment, which is due to the trauma he has suffered.
If you're reading this on the web, sign-up HERE to get the WaughZone delivered to your inbox.
Got something you want to share? Please send any stories/tips/quotes/pix/plugs/gossip to Paul Waugh (paul.waugh@huffingtonpost.com), Ned Simons (ned.simons@huffingtonpost.com), Martha Gill (martha.gill@huffingtonpost.com) and Owen Bennett (owen.bennett@huffingtonpost.com)