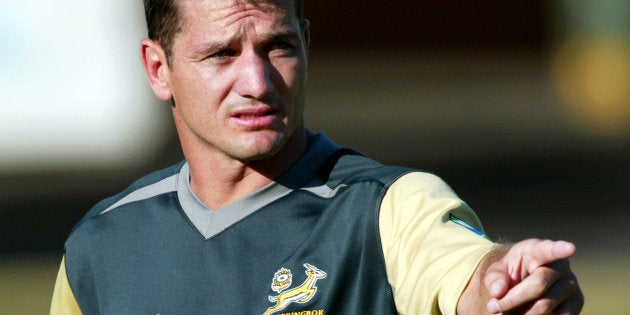 Former rugby star Joost van der Westhuizen is still clinging to life, in a serious condition in hospital.
On Sunday morning, the J9 Foundation said that Van der Westhuizen was in a critical but stable condition in the intensive care unit in hospital. "He is responding well to his loved ones and putting up an incredible fight. He really is our Superman!"
The Sunday Times reported that the 45-year-old rugby legend's ongoing fight was "invoking the spirit in which he played the game". Van der Westhuizen is a former Springbok captain.
His brother, Pieter van der Westhuizen, told the newspaper late on Saturday: "Joost remains in a critical condition in hospital. He went through an extremely critical phase earlier on today, however, they have managed to stabilise him. He continues to fight in true Joost style." He asked the public to "stop fabricating stories and sending our false reports around his condition".
City Press reported that he was in the high-care unit at Life Fourways Hospital in Johannesburg and on a ventilator. The newspaper said his youngest brother, Gustav van der Westshuizen, said on Saturday afternoon that "He's still fighting, just like he fought on the rugby field. He keeps fighting because he wants to see his children grow up and to see a cure for motor neuron disease found."
Late on Saturday night the foundation confirmed he was in a serious condition.
The foundation and his family have dismissed rumours over the past week of his death.
On Saturday, the foundation said it would provide accurate, official updates.
The foundation had announced on Saturday morning that Van der Westhuizen had been taken to hospital.
Van der Westhuizen was diagnosed with motor neuron disease in 2011 and subsequently set up the J9 Foundation to help those suffering from the disease.
In motor neuron disease, the nerves controlling muscles degenerate; this can affect a sufferer's ability to walk, speak, eat or breathe.
"The J9 Foundation's core objectives are to contribute to research in Africa and raise awareness, both locally and internationally for Motor Neuron Disease with the intent of teaching people about the disease who will then, in turn, support efforts across the globe to find a cure or cause," said the J9 Foundation on its website.
"The J9 logo is a symbol of the every willingness to strive forward and never give in. No matter how far or how high life's challenges are. To fight to the end, to show true courage and valour. This is Joost's Legacy to South Africa and the world, to everyone who watched him carry that number and those words on his back and in his heart."