The five things you need to know on Monday, February 13…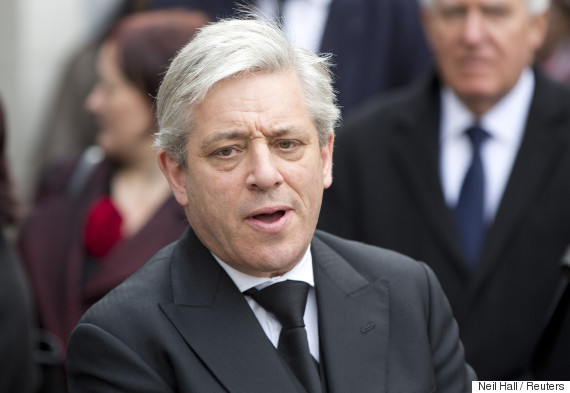 Today's Waugh Zone is written by Owen Bennett
1) BER-GO
Pressure on John Bercow is increasing after a video emerged of him admitting that not only did he back Remain in the EU referendum, he also believed immigration was a good thing and Labour had not done enough to defeat Brexit.
Coming less than a week after he infuriated many MPs for banning US President Donald Trump from speaking in Westminster Hall, former Cabinet Minister John Whittingdale yesterday said the "scoresheet is mounting up against" Bercow.
Last night Tory MP Alec Shelbrooke told BBC Radio 4's The Westminster Hour that Bercow should resign as "the Speaker can no longer be deemed to be independent of the political debate, and therefore his position as Speaker of the House of Commons is untenable."
He added: "The very fact that he makes political comment on events…that are still exceptionally live, just adds to the picture that he is not somebody who we can regard as unbiased…The MPs in the House of Commons should not know how the speaker voted."
Of course, the argument that Bercow is not neutral when it comes to Brexit debates would carry more weight if someone had complained about his behaviour before the video emerged. Indeed, Whittingdale said he believed Bercow had actually voted Leave until he saw the footage – suggesting the Speaker had done a good job in hiding his true allegiance.
The question now is how much support there is for actually trying to oust Bercow. Tory MP James Duddridge, who tabled an Early Day Motion saying the Commons has "no confidence" in the Speaker, told Radio 4's Today programme this morning he had the support of people "of all political parties, and minsters"
However, as of this morning, his EDM has precisely one signatory: James Duddridge.
Shelbrooke confirmed he would add his name today, but that still leaves the Bercow bashers a long way to go before they get a critical mass of names. One Tory MP, who is not a fan of Bercow, told me this morning that "the fact he is going anyway makes him more secure than would otherwise be." The MP added: "I also suspect that he won't be able to stop himself from gobbing off."
Leader of the Commons David Lidington said yesterday the Government wouldn't stand in the way of any moves to oust Bercow, but with the Speaker being popular with many backbenchers even the latest revelations are unlikely to see him dragged from the chair.
2) JAILHOUSE STOP
All Ministers are keen to stamp their own authority and ideas on a department, but the civil servants at the Ministry of Justice have had to deal with more changes than most in recent years.
Michael Gove began tearing up the work of his predecessor Chris Grayling as soon as he donned the tights and gown in 2014, and now Gove's successor – Liz Truss – is doing the same to him.
In a speech today, Truss will move away from the Cameron-Gove soft, liberal vision of justice to a much more hardline position. According to the Telegraph, the former Environment Secretary will argue that cutting prison numbers just for the sake of doing so is "a dangerous attempt at a quick fix".
"This would be reckless and endanger the public. And it would restrict the freedom of the independent judiciary to choose the most appropriate sentence for each offender," she will say.
Truss will also take a dig at Labour's Shadow Attorney General Shami Chakrabarti, who called for a reduction in prison number as she does not believe the "sum of human wickedness" has doubled in her lifetime.
Truss will say: "It's not that the sum of human wickedness has doubled – it's that we have driven that wickedness out from the shadows and put it where it belongs, behind bars."
While these words will no doubt go down an absolute storm with the Tory right (and many socially conservative Labour supporters), it does not address the fact that prison officer numbers have gone down by 14.5% since 2013. Indeed, the Howard League for Penal Reform warned last year that even with a recruitment drive for officers, the numbers were still far to low for a prison population in excess of 85,000.
3) LAST ORDERS
Philip Hammond's first Budget as Chancellor is less than a month away – March 8, to be precise – but the signs of the battles to come are starting to emerge. The front page of The Times runs a story that some of Britain's top pub and restaurant chains are urging the Treasury to slash business rates – which are set to rise by 42% in some cases from April.
"Pub and restaurant chains directly employing more than a million people have signed a letter to the chancellor, warning that the rises some are facing will damage their ability to help to make a success of Brexit," writes the Times.
City AM carries a similar warning from West End theatres, and calculates the venues will have to stump up £31million in property taxes over the next five years.
One way to find some extra money for the Treasury coffers would be to scrap the triple-lock on pensions. Speaking on the Today programme, former Tory minister David Willetts said "pensioners themselves are worried about their kids and grandchildren" and youngsters are being "left behind". Scrapping a policy which benefits many of the Tories' core voters would certainly fit into the "courageous" category of praise handed out by Sir Humphrey in Yes, Minister.
BECAUSE YOU'VE READ THIS FAR…
Proving that even the best sometimes make mistakes, Adele last night stopped her own rendition of the George Michael tune Fastlove at the Grammys - as she was out of tune. "I need to start again, I f***ed it up" she said. Her admission made the audience love her even more.
4) PRAGMATISM, ACTUALLY
He is for many, including former Vice President Joe Biden, one of the last champions of liberalism. Today, Canada's Prime Minister Justin Trudeau will meet with Donald Trump in Washington. The pair may be polar opposites politically, but do have some similarities – both are children of extremely successful fathers, both were elected on promises of helping the middle classes. But that is pretty much where the similarities end.
Trudeau has avoided criticising Trump in public over his refugee ban, but engaged in some epic sub-tweeting after it was announced: "To those fleeing persecution, terror and war, Canadians will welcome you, regardless of your faith."
Anyone hoping for a Love, Actually moment from Trudeau today – in which he stands up to a bully of US President – may be left disappointed. As popular as it would make him with the Twitterati, the Canadian PM will no doubt be aware that with 400,000 crossing the border between his country and the US everyday – and two-thirds of Canada's trade conducted with its southern neighbour – he has to avoid upsetting the volatile Trump. As the Donald showed in his bad-tempered phone call with the Australian PM Malcolm Turnbull last week, the President is capable of either hand-holding or head-bumping with foreign leaders.
5) EVERYBODY NEEDS GOOD NEIGHBOURS
With Parliament in recess, many Labour MPs are being shipped off to Stoke and Copeland this week to campaign in the by-elections. Yesterday, the party's new election coordinator Ian Lavery described the potential loss of two rock-solid Labour seats as a "hiccup" – which does make you wonder what full-blown throwing-up would look like.
The battle for Stoke Central has taken much of the media attention, mainly because Ukip has targeted the seat and it's easier for London journalists to get to than Copeland.
Ukip leader Paul Nuttall has been forced to move from his house in the city – the house which he hadn't actually stayed in before claiming it was his place of residence. Ukip claim people had tried to break into the property, and hate mail had come through the letterbox.
I wonder if any of the hate mail was as strong as a cartoon retweeted by Ukip's Immigration Spokesman and Treasurer John Bickley last night. "If you want a jihadi for a neighbour, vote Labour" was the image's caption – harking back to the Far Right phrase used in the 1960s in support of a Tory candidate in Smethwick in the West Midlands. Bickley has since deleted his retweet.
If you're reading this on the web, sign-up HERE to get the WaughZone delivered to your inbox.
Got something you want to share? Please send any stories/tips/quotes/pix/plugs/gossip to Paul Waugh (paul.waugh@huffingtonpost.com), Ned Simons (ned.simons@huffingtonpost.com), Martha Gill (martha.gill@huffingtonpost.com) and Owen Bennett (owen.bennett@huffingtonpost.com)