The five things you need to know on Thursday, March 23…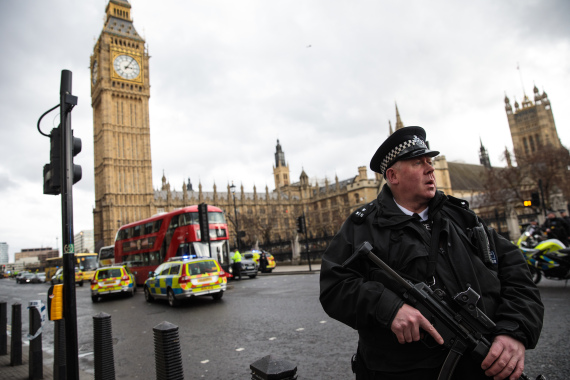 1) ATTACK ON WESTMINSTER
Any minute now, the Commons Speaker's chaplain, the Reverend Rose Hudson-Wilkin, will lead the daily prayers with MPs. And the prayers will today include all those so brutally murdered in the attack on Westminster - in its grounds and on its bridge.
This morning the combined sense of defiance and reflection is what matters most. After prayers, we will get the usual Thursday morning question times for International Trade, for Women and Equalities and the Business Statement. Prime Minister Theresa May, who rightly said that we should meet "as normal", is expected to make a statement on the terrorist incident at about 10.30am.
I wrote my piece HERE last night on how the awful events unfolded before our eyes yesterday. The most heartbreaking thing was seeing police and paramedics try so hard to save the life of PC Keith Palmer, before those blankets were placed carefully over his body on the cobbles of New Palace Yard. The empty stretcher stood helplessly nearby. In nearly 20 years working in the Commons, I always said I'd never tire of the view from our Press Gallery office. This morning, the police tapes and debris are a reminder that this is a crime scene.
Jo Cox's widower Brendan said last night: "I don't care about the name of the attacker. This is the name I will remember" as he linked to a photo of father and husband, 48-year-old PC Palmer. He's a man many of us have seen in the Palace for years, going about his daily duty of checking passes and letting groups in and out of the building. Last night Tory MP James Cleverly, who served with him in the Royal Artillery, paid generous tribute to "a lovely man, a friend".
The horror of those mown down on Westminster Bridge is hard to comprehend. This morning we learn that one of those killed was Aysha Frade, a mother of two who was on her way from a nearby college to pick up her children from school. Another of the dead was reported to be a Romanian citizen.
It's a fast-moving story, with arrests in Birmingham and efforts to work out just how the killer was motivated to carry out such callous acts. But as Parliament tries to get back to normal, in memory of those killed, we should remember that Westminster is ultimately not a private club, the caricatured preserve of the elite. It is where the public are represented every single day.
Yes there are Hogwarts-style idiosyncracies to the place, but in recent years much has been done to open up the building to visitors, while tightening up security. Just think of who was present yesterday as the terror attack took place: a group of young Derbyshire boxers visiting Westminster Hall, whose coach rushed to give first aid to the stricken PC; a party of schoolchildren whose singing kept up the spirits of those in lockdown in Central Lobby; members of the public down for the day to see MPs from the public gallery; visitors to the new Education Centre.
Today's Order Paper too has a typical list of Thursday events that underline the varied and important work done by MPs: as well as question times, two debates on pension compensation and social mobility; Westminster Hall debates on the Syrian refugee crisis and on aid to Nigeria. And there's the local as well as the global: Tory MP Charles Walker has an adjournment debate on "Ratty's Lane incinerator in Hoddesdon".
Deputy Speaker Lindsay Hoyle put it well today when he said: "We lost one of our village policemen. This is our village." But as well as being a community of more than 2,000 people who work here, it is in the end the nation's Parliament. Westminster has for too long been portrayed as the 'other', as a place disconnected from the rest of the country. And an attack on it is an attack on us all. That's why we'll keep calm and carry on today.
2) ELLWOOD'S DUTY
Watching from a Press Gallery office directly above New Palace Yard, we spotted a blond man in a dark suit, blood smeared over his face and clothes. And as he walked closer, we realised it was Foreign Office minister Tobias Ellwood, who had been among those trying desperately to save PC Palmer's life.
Ellwood, whose own brother Jonathan had lost his life in the Bali terror bombings in 2002, is a former Army captain and his training kicked in. He said later "I was on the scene and as soon as I realised what was going on I headed towards it." Headed towards it, just as the police officers on the scene did too. Those words alone tell you of their bravery.
"I tried to stem the flow of blood and give mouth to mouth while waiting for the medics to arrive but I think he had lost too much blood. He had multiple wounds, under the arm and in the back," Ellwood said. He told The Times: "What a mad world — tried to save officer but stabbed too many times."
Labour's Mary Creagh also did her bit, having been evacuated, to tell Westminster Tube controllers to shut down the station immediately. She recalled thinking she didn't want tourists walking up and wandering in with their children into the danger area. "I went to the control room, I told the controller there had been what we thought was at terror attack on the Palace of Westminster and I said 'you've got to shut this station now'. "I didn't have my badge, I didn't have anything. I just had the authority that sheer panic gives you."
In the Commons, former Tory chairman Grant Shapps told me how officers ordered him and others to "Get down! Now!" and they crawled on hands and knees out of the yard. Making his way to the back of the chamber, Shapps told the Deputy Speaker to suspend the session soon after.
3) TRUMP-ED UP REACTION
While debate should rightly continue freely, there is a time and a place for reaction. And last night, within hours of the incident, there was condemnation of some responses that were far from measured. Even in today's Twitter-trigger-happy world, you can tell a lot about someone in the way they react to events like yesterday's.
Donald Trump's son Donald sparked a backlash when he tweeted a link to a piece by Sadiq Khan pointing out how terrorist preparedness was a major factor for capitals across the globe. "You have to be kidding me?!: Terror attacks are part of living in big city, says London Mayor Sadiq Khan" Donald Jnr said. Labour's Wes Streeting replied that he was "a disgrace", while the Mayor simply issued a statement that "London will never be cowed by terrorism".
But Trumpishness has infected some in UKIP too and Nigel Farage's big donor Arron Banks outraged MPs when he too tweeted that "Teresa May was Home Secretary for 6 year when over a million illegals were allowed into our country. I don't think I've ever felt more sick." Tory backbencher Charlie Elphicke spoke for many when he replied: "Today of all days to write something so disgusting. Yes, you are sick."
There were plenty of other idiots on social media. I rarely respond because that gives them the oxygen of pubiclity they so crave. But Maria Miller rightly denounced one guy who tweeted at her: "All MPs and Lords now recovering from being woken up after their boozy lunch time".
As Toby Ellwood showed, many people who work in this building react with honour and integrity. Is it too much to hope that the lazy, nasty narrative about grubbing politicians all being in it for themselves takes a back seat? We hoped it had abated with the death of Jo Cox last year. But sadly the poison is still in the bloodstream.
BECAUSE YOU'VE READ THIS FAR…
Watch the PM's full statement last night on the awful events of yesterday.
4) PENSION TENSION
MPs were voting on an obscure bit of pensions legislation when the attack happened. And on another day, today's front pages and headlines would have focused on two big reports on pensions, both of which underline in stark fashion the cost of our ageing population.
An analysis by the Government actuary, for the Department for Work and Pensions (DWP), has suggested that workers under the age of 30 may not get a pension until the age of 70. A second report, by John Cridland, proposes that those under the age of 45 may have to work a year longer, to 68. There are no exemptions for those in tough manual labour jobs.
That's controversial enough, but Cridland also says that after 2020, the 'triple lock' that guarantees state pensions rise should be scrapped. The DWP told me very firmly yesterday that "no decisions have been made" and stressed these were not Government proposals. We will find out in May more about what ministers think.
Pensions tax relief is another big ticket item of course and No.10 went out of its way yesterday to calm down weekend speculation that it would be targeted to fill the Budget's £2bn black hole. The Lib Dems tried this in the Coalition and George Osborne soon after the last election, but received a strong blowback from colleagues. Yet the FT focuses on the official Treasury line that "we keep all taxes and reliefs under review". Pensions experts expect some tweaks in the Autumn.
5) JUSTICE SPEAKS
Lord Chancellor Liz Truss is already under fire from many colleagues for her insurance discount rate hike, a move that will cost the NHS billions (and is still not resolved). But yesterday, she faced a fresh broadside from the outgoing Lord Chief Justice Lord Thomas as he gave evidence to the Lords Constitution Committee.
Lord Thomas slammed Truss over her failure to react quickly to defend the independence of the judiciary from Daily Mail and other newspaper attacks in the wake of the Article 50 High Court case. "She was completely and absolutely wrong," he said, pointing out - note this given yesterday's events - that he personally had needed to seek police protection for the first time in his life. No.10 later defended Truss to say she had spoken up for judges but also repeated the line the Government wouldn't tell the press what to print.
Yet Thomas was just as damning about Truss's recent policy pledge to roll out reforms to spare alleged rape victims cross-examination at trial. Her ministry had a "complete misunderstanding" of wider reforms that were to take effect and that they were not to do with adult rape victims - and were for children instead. He clearly has doubts about the adult pilot scheme, as do many lawyers.
If you're reading this on the web, sign-up HERE to get the WaughZone delivered to your inbox.
Got something you want to share? Please send any stories/tips/quotes/pix/plugs/gossip to Paul Waugh (paul.waugh@huffingtonpost.com), Ned Simons (ned.simons@huffingtonpost.com), and Owen Bennett (owen.bennett@huffingtonpost.com)