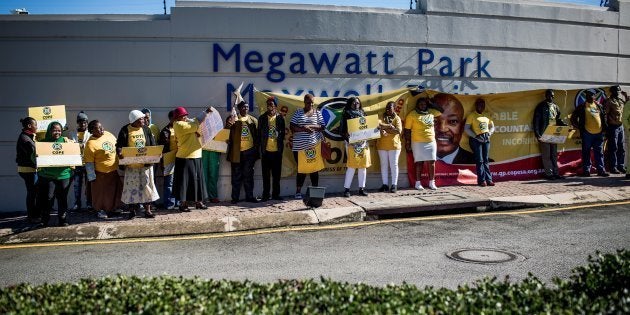 Eskom may have funneled money to a Gupta-linked firm in order to help the Gupta family buy a mine, a new investigation suggests.
Despite protestations by public minister Lynne Brown to the contrary, an amaBhungane investigation on Thursday says Eskom paid a Gupta-linked millions in a series of payments around the time that the family wanted to buy the Optimum coal mine from Glencore.
The report, published by Eye Witness News (EWN), details how Brown initially tried to put to rest rumours of contracts between Eskom and Trillian Capital Partners, a firmed owned by Gupta associate Salim Essa.
Thuli Madonsela's state capture report says Trillian was one of the companies which contributed towards the purchase of Optimum.
In Parliament, Brown was asked by DA MP Natasha Mazzone which contracts had been concluded between Eskom and Trillian and what the costs involved were.
Brown reportedly replied that there were none.
But by that stage, amaBhungane says Trillian or its subsidiary companies had already invoiced Eskom for R266 million. Days later, Trillian reportedly invoiced Eskom for a further R153 million.
And in October 2016, Eskom again denied having any contracts in place with Trillian.
Trillian refused to disclose details of its contracts with Eskom to amaBhungane.
But amaBhungane reported that between April and December 2016, Trillian companies invoiced Eskom to the tune of R419 million on four separate occasions. The invoices were for, amongst others, working on Eskom's corporate plan and management consulting.
In April 2016, amaBhungane reported, Tegeta, owned by the Guptas was "struggling" to come up with R2.15 billion to buy Optimum from Glencore.
On Tuesday, amaBhungane revealed how Eskom allegedly "squeezed" Glencore into selling to the Guptas.
On April 11, just days before the deadline for the payment, Eskom allegedly gave Tegeta a payment of over R600 million, supposedly for coal.
"If Eskom's prepayment to Tegeta was the first concrete example of Eskom helping the Guptas buy Optimum, the uncanny coincidence of timing and urgency suggests the first of the Trillian invoices must fall into the same category," the report says.