The five things you need to know on Friday, May 19…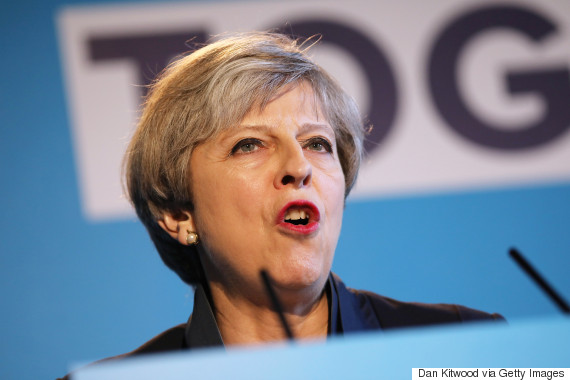 This morning's "optimistic" Waugh Zone is by Ned Simons. Paul is away.
1) MAYISM IS A THING
"There is no 'Mayism'," the prime minister demurred at her manifesto launch yesterday. But it's hard to see her rejection of "selfish individualism" and the ripping up of several Cameron-era commitments as anything other than Theresa May making a break from Thatcherism and forging her own brand of Conservatism. As Paul, who was in Halifax for the manifesto launch, notes, the decision to launch the manifesto in Halifax also shows the depth of May's electoral ambitions. "By regularly staging daring raids behind enemy lines, May forces Jeremy Corbyn to use his thin resources on defending the defensible rather than more vulnerable marginals, or even offensive targets of its own," he writes. "Yet the much bigger picture is the PM's belief that Labour supporters who backed 'Leave' in the EU referendum (Halifax was 55% Leave to 45% Remain) will vote for her party for the very first time to ensure Brexit is definitely delivered." In case you missed it last night, do read Paul's special Tory manifesto edition of the Waugh Zone. You can read the Conservative manifesto in full here. If that's what you're into.
2) 'SICK AND SNEAKY'
John McDonnell responded to the Tory manifesto for Labour this morning. He branded Conservative plans to change pensioner benefits "sick and sneaky" and tore into May for having not costed her plans. The shadow chancellor took aim at the proposal to means test Winter Fuel Payments to help fund social care. "As soon as you start means-testing, large numbers don't claim," he told BBC Radio 4's Today programme. McDonnell also batted away questions about Len McCluskey's awkward prediction that Labour winning 200 seats - 29 fewer than it currently has - would be a "successful" result. "He was much more optimistic the next day," McDonnell said dryly. "He just woke up more optimistic the next morning." As for his own prediction about the election? "We are going to win, we are rising in the polls," he said.
3) FALLON FUMBLES
McDonnell also said May's decision to keep the pledge to reduce immigration to below 100,000 was a "joke". Michael Fallon, who was on Newsnight last night, struggled to explain how much the policy will cost. Is it even a policy? The defence secretary referred to the words in the manifesto as an "aim" and an "ambition". Asked by Evan Davis what the price tag was, Fallon told him: "There's been various academic work done on the cost of immigration." You can watch the full exchange here.
BECAUSE YOU'VE READ THIS FAR… Melissa McCarthy's Sean Spicer bloopers from 'Saturday Night Live' may be even funnier than the actual episode
4) WHO IS NATALIE?
Last night ITV held its leaders's debate (without the two main party leaders). Paul Nuttall decided to add another person to the stage, a mysterious woman called "Natalie". The Ukip leader got Plaid Cymru's Leanne Wood name wrong. Twice. "I'm not Natalie, I'm Leanne," Wood told Nuttall. "Will you call me Leanne," she asked the second time. "Women's names. He's done it twice now," Green Party co-leader Caroline Lucas said after Nuttall corrected himself and apologised. May and Corbyn's no-show was branded "pathetic" by ITV's Robert Peston.
5) CURTAINS FOR TRUMP?
Donald Trump on Thursday lashed out after the US Justice Department's decision to appoint a special counsel to oversee the investigation into Russian influence in the 2016 presidential election, calling the overall scrutiny of his team "the single greatest witch hunt" in US political history. Deputy Attorney General Rod Rosenstein appointed former FBI Director Robert Mueller on Wednesday evening to serve as a special prosecutor in the case after Trump fired FBI Director James Comey, who had been leading the investigation into Russia's role in the election until his sudden dismissal last week. The New York Times reports. Comey was once so uncomfortable about meeting Trump that he once tried to blend into the White House curtains to avoid being noticed.
If you're reading this on the web, sign-up HERE to get the WaughZone delivered to your inbox.
Got something you want to share? Please send any stories/tips/quotes/pix/plugs/gossip to Paul Waugh (paul.waugh@huffingtonpost.com), Ned Simons (ned.simons@huffingtonpost.com), Kate Forrester (kate.forrester@huffingtonpost.com) and Owen Bennett (owen.bennett@huffingtonpost.com)