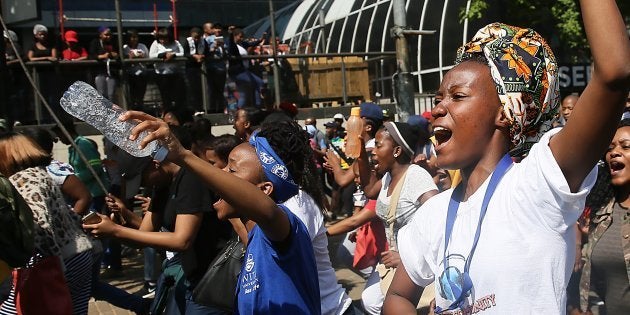 The ANC has said it faces the threat of regime change through what it calls a "colour revolution" and sinister forces at work in the body politic.
Minister of State Security David Mahlobo said the commission on peace and stability had discussed "forces seeking to undermine our advances" during the party's fifth national policy conference. It was concerned about espionage and attempts at regime change in the country by mostly unnamed enemies of the ANC's revolutionary project.
"We don't want to create the view that South Africa is loved by everyone," he said. "We know our enemies."
He said those wanting to do business in the country and build friendships were welcome, but the party wanted "everyone to come through the right door".
"Don't strong-arm us," he said.
'The agents of counter-revolutionary change are here and hard at work'
The ANC has invoked the concept of a "colour revolution" as a description of a mounting "offensive from external forces with the regime change agenda at its core", elements of which have been evident in recent protests, including at Marikana and during the #FeesMustFall and #ZumaMustFall movements.
Colour revolution, ANC secretary general Gwede Mantashe said, seeks to "guarantee the West access to the natural resources the developing countries are endowed with, and also have those countries as their markets". Examples of revolutionary waves allegedly co-opted by nongovernmental organisations or other "foreign forces", include the Arab Spring across parts of the Mahgreb in north Africa, the Orange Revolution in Ukraine, Tulip Revolution in Kyrgyzstan and the hybrid revolution in Yemen and Syria.
Burgeoning talk of regime change, listed as a major external threat to the ANC in its diagnostic organisational report, is a "reality facing all progressive governments in developing countries", according to the document.
"The Russians and the Chinese characterise regime change as "the increasingly widespread Western practice of overthrowing legitimate political authorities by provoking internal instability and conflict against governments that are considered inconvenient and insubordinate to their interests, replacing them with pliant puppet regimes that then pander to their interests", the report said.
What exactly is a "colour revolution" and how will it manifest here? Mahlobo on Tuesday said it is "doctrine intelligence" that there are "normally four things that make colour revolutions work":
Entities such as non-government organisations are established (ostensibly by foreign influencers) as vehicles of influence. "On record, we have said certain NGOs play that game," Mahlobo said.
These entities use particular terminology to promote and permeate their ideologies in society. They augment issues around poor and visionless leadership and corruption.
They then create and cultivate "alternative" and "celebrity" leaders that gain in popularity.
Government failures, then, are used to drive colour revolutions. "If we don't respond on issues of government, we create conducive environments for others to exploit us. So what we need to do is clear," he said.
In response to a question by an ANN7 reporter on whether delegates had discussed the role of media in encouraging colour revolutions, Mahlobo said the media was not discussed. Instead, he said, talks included discussion on the tools that can be used to "do an agitation" of which media is "the most powerful".
"It [media] can be used for peace, justice and development; but you can also have a situation where media can be exploited for other things. This happens in many countries," he said. The question needs to be asked if media are actually reporting objectively, he added.
"This is why I have given you the four phases of colour revolution. If you don't analyse properly, you'll see regime change agents all over where they may not exist," he said.
What is the president so scared of?
Tight security and restrictions on the movement of journalists at the ANC's policy conference, meanwhile, suggest the party's paranoia isn't restricted to its relations with foreign powers or university students capable of bringing the higher education system to a standstill.
President Jacob Zuma moved around the highly secured Nasrec showgrounds on the final day of the conference with a phalanx of 18 bodyguards. While he walked, a motor cavalcade of black BMW, Mercedes-Benz and SUV vehicles followed him for a short tour of three satellite television studios.
Journalists throughout the conference were largely held in a designated media area, behind fences and far from delegates. If policy recommendations from the conference suggest more continuity than radical change in the ANC's policy palette, heightened and (in part) impatient security and the introduction of a media "chicken run" are certainly newer features that speak volumes.
Over the past two years, analysts have noted how Zuma's security detail alone has grown with regards to the length of his cavalcade and the number of his guards. He now moves with 11 cars.
This suggests that the president feels threatened. And paranoia at the top has filtered through the ranks, evidenced by frequent remarks detailing regime change, colour revolutions and other external threats to the ANC's revolutionary project.
The party knows it is in trouble. It has made this clear repeatedly over the past few days, acknowledging the growing "trust deficit", or chasm, between the party (or government) and society. Despite this, its decision to invoke the language of regime change, underhanded "elements" in domestic protests and threats of imperial powers - or perhaps imperial poltergeists? - suggests the party has not fully grasped the genesis or source of growing distrust.
Communities in protest around the country, in Coligny, Hout Bay, Eldorado Park and countless more, surely won't take kindly to allegations of foreign influence through NGOs or other agents of regime change in demonstrations that (many are at pains to point out) are in fact action of the last resort.
On paper and in press briefings, the ANC has stressed the need for renewal and said "it is never too late" to reverse its self-described decline. If the party becomes easily inclined to dismiss action against the state as the work of "regime change" or NGO-led foreign interference, it may find regaining the trust of society but a revolutionary pipe dream.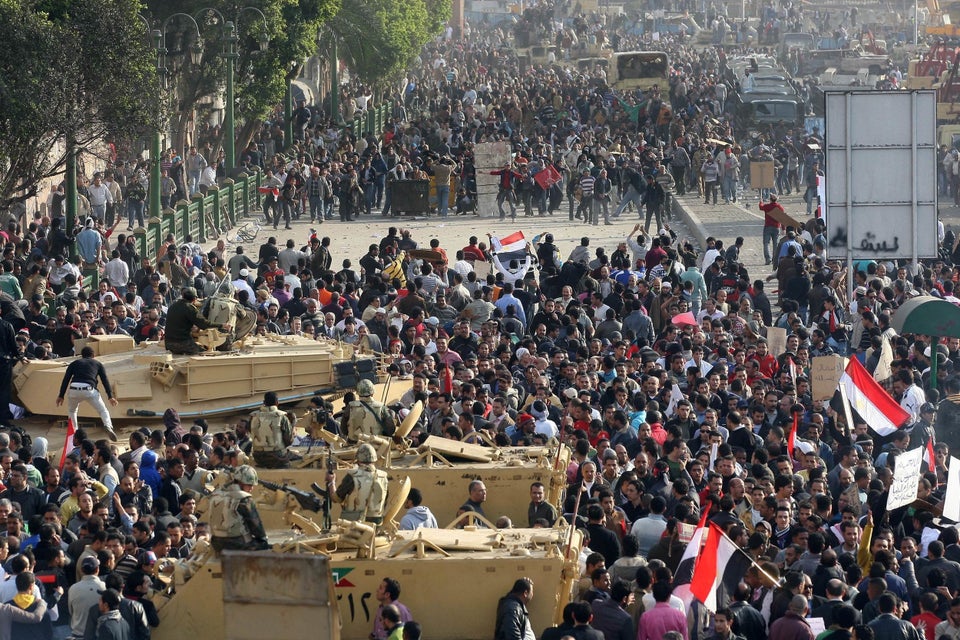 IN PICTURES: 'Colour Revolutions' Around The World