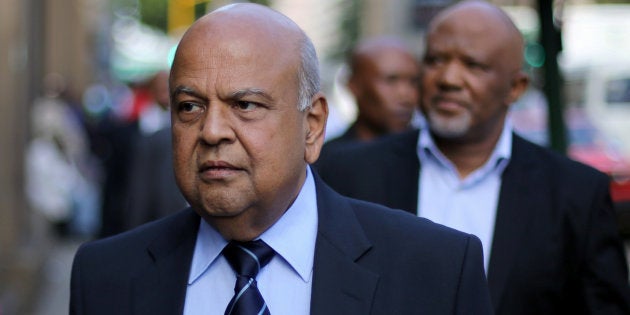 Former finance minister Pravin Gordhan has lashed out against state capture, saying money being stolen from the state could have been for housing, education and funding of higher education.
Gordhan was speaking alongside his former deputy, Mcebisi Jonas, at a lecture on state capture at the University of Johannesburg.
Gordhan began by asking the crowd: "How many of you would accept R600 million in a bribe from the Guptas", referring to an alleged bribe offered by the Guptas to his former deputy, Mcebisi Jonas, to take the finance minister job and work for them.
Here are the most important things Gordhan said.
1. Money being stolen could have been used to institute changes in sectors like housing and education
"This kind of stealing from the public purse impacts on every single citizen. We are depriving young people in our country of jobs by the declining of our economy."
2. State capture harms the economy
"We are today in negative growth, but as a result, we have lower revenue. We have a freezing on the investment side... There is a picture that can be drawn about a systemic approach in state capture, which involves ensuring in SOEs especially, the changing of the boards and putting in the right people."
3. If we want to challenge state capture, we need to expose it
"The role of intellectuals is not to sit down in their arm chairs, but become active intellectuals. We need to regenerate the analytic abilities that will allow us to get to the heart of state capture. It's our job to inform and educate the South African public and let them know exactly what is going on."
4. There is no doubt that the economy has not been transformed, but we need to work harder
"The question is the way in which the slogan is used. Is the slogan being used to mask stealing from the state? We must be careful of slogans because slogans don't bring about change, hard work does."
5. Radical economic transformation must result in an economy that benefits the masses, not a small clique
"We want a radical economic transformation that will restructure the economy, diversify the economy, create confidence in our economy, and make sure the poor benefit."
Gordhan emphasised that the country has "too many fence-sitters" who are waiting to see which way "things are going to fall". He urged citizens to make a decision on where they stand.
"If we keep quiet, we are going to slump into a ten-year disaster. It will take five to ten years to recover. This South Africa is our country, nobody must be allowed to steal it from us," Gordhan concluded.