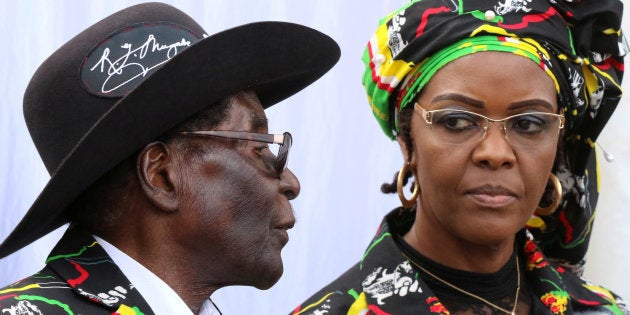 Grace Mugabe reportedly skipped the country and returned home to Zimbabwe on Tuesday afternoon, despite promises by police minister Fikile Mbabula that she would appear in court on assault charges.
According to Eye Witness News (EWN), Mugabe was due to appear in court on Tuesday afternoon after a 20-year-old woman laid assault charges against her. Mugabe allegedly assaulted the woman with an extension cord after finding her in a Sandton hotel room with her two sons.
But a senior government official reportedly said Mugabe was back in the country on Tuesday afternoon.
This was confirmed by other reports:
The Times reported on Wednesday that the woman, Gabriella Engels, suffered injuries to her head and opened a case of assault on Tuesday. About ten bodyguards reportedly stood by idly as she was assaulted.
At about 3:30pm on Tuesday, police spokesperson Vish Naidoo reportedly said Mugabe was negotiating with the police before handing herself over.
"It was supposed to happen today. It didn't materialise yet," he reportedly said. Just after 4pm, Naidoo said Mugabe's legal team confirmed she was still in the country.
"When Grace entered I had no idea who she was. She walked in with an extension cord and just started beating me with it...She flipped and just kept beating me with the plug. Over and over. I had no idea what was going on. I was surprised... I needed to crawl out of the room before I could run away.
"Her ten bodyguards just stood there watching, no one did anything, no one tried to help me."
"There was blood everywhere. Over my arms, in my hair, everywhere."