Two weeks after Hurricane Harvey made landfall on the Texas coast, celebrities are on the ground in the Houston area reaching out to victims and assisting with aid.
Houston native Beyoncé made a stop Friday at St. John's Church with mother Tina Knowles, daughter Blue Ivy, and former Destiny's Child bandmate Michelle Williams. The "Formation" singer addressed hurricane victims, telling them, "This, today, is a celebration of survival. Y'all are my family. Houston is my home. I thank God that you're safe, your children are safe. I think that really matters, is your health and your children and your family."
Fan site Beyoncé Legion captured the emotional speech on video.
Knowles shared a video of Williams and Beyoncé helping to pass out food. Knowles wrote in her caption that her daughter sponsored a luncheon for 400 people, some of whom were affected by Harvey.
In the wake of the hurricane's destruction, Beyoncé pledged to help "as many as we can" with her BeyGOOD foundation, aiming to help long-term revitalization in the area and supplying Texans with necessary items including cots, wheelchairs and baby products.
Actress Jennifer Garner, also a Houston native, was in the area as well. She shared her feelings after visiting children affected by the hurricane in a post on her newly created Instagram.
"Terrifying things have happened to these kids in the past couple of weeks, but they don't want to dwell on those stories," Garner wrote in the post's caption. "They want to tell you that their neighbor's puppy was found. That they saved their mother's life by throwing her a rope when the flood water overcame her and now she's OK."
Megastar Janet Jackson was also in the area amid her 56-city State of the World Tour, meeting with hurricane survivors and offering messages of hope on social media. Jackson is performing at the city's Toyota Center Saturday night.
Earlier in the week, the star shared a video on Twitter, saying that she and her team were "going to roll in early because we wanted to visit some of the shelters." She also promised to do "something special" for hurricane victims.
Meanwhile, comedian Kevin Hart, who urged his famous friends to help out with disaster relief in the wake of Harvey, shared a video of himself and Houston Rockets point guard Chris Paul distributing food and water to those in need.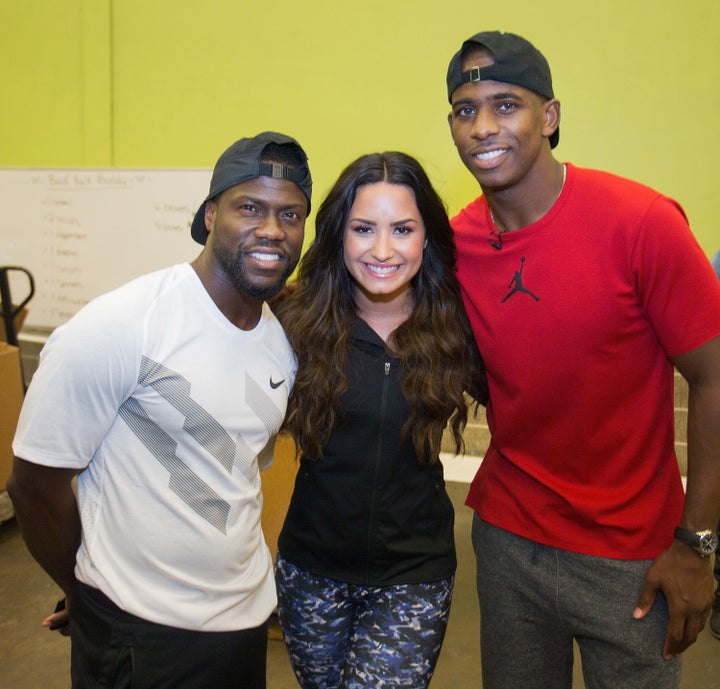 Hart and Paul also assisted in serving meals — or, as the comedian put it on Instagram, "showing our love & support for the people of Houston."