Foreign Secretary Boris Johnson has praised the response of the community in Anguilla after landing on the island to witness first-hand the devastation unleashed by Hurricane Irma.
Ahead of touching down at the island's airport on board the Royal Air Force's Airbus A400M Atlas, packed with aid supplies and carrying the latest deployment of Royal Marine troops, he surveyed the damaged from the window of the cockpit.
On Wednesday morning, Mr Johnson will be venturing out into the community to see some of the most hard-hit places of Anguilla before heading to the British Virgin Islands.
Addressing those gathered at the home of Anguilla governor Tim Foy on Tuesday, Mr Johnson admitted he "hadn't seen much of the island yet", but that what he saw was "very surprising".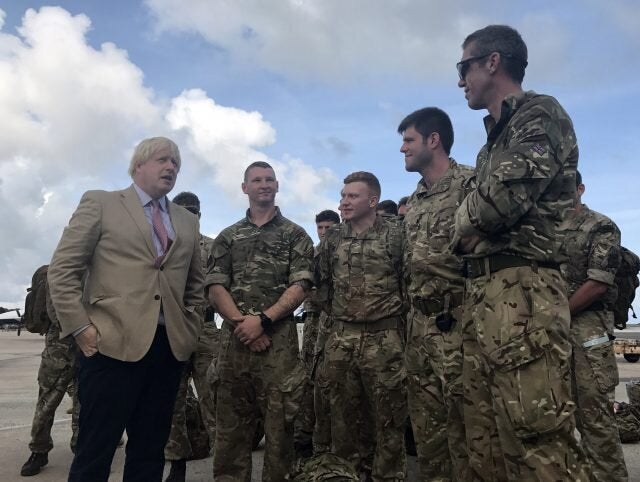 "I had been told it was going to be a scene of devastation from the air and I have to say that I looked down as we flew in and I saw an incredible amount of tidying up had already happened," he said.
"But talking to you all, it is clear this place has been through an absolutely hellish experience, and it is no doubt at all that you need help with power generation, with getting the hospital back up and running, getting the airport back up and running, and schools properly set – all kinds of things need to be done."
Mr Johnson said he is visiting to "show the commitment of the United Kingdom to this country", adding: "We are here to help."
Highlighting the presence of the Royal Marines on the island, he said "it is the biggest operation our armed forces have conducted since Libya", calling it a "huge effort that is going on now".
"But the achievement in getting this place back on its feet belongs to the Anguillan people," Mr Johnson added.
"It seems to me you are doing a fantastic job, keep it up, this place will be back up on its feet before very long and I want you to know that the UK is not going to be with you not just in short term, but in the long term as well."
Hundreds of UK troops and 50 police officers have already been sent to British overseas territories in the region, after they were battered by the most powerful storm ever recorded in the Atlantic Ocean.
Mr Johnson said there are now 1,000 troops which have been deployed, with this figure set to increase to 1,250 in the coming days.
Recovery and aid efforts are under way to help those trying to piece together their lives from the ruins of the hurricane.
With £32 million already committed to help the affected overseas territories, and the pledge to match donations to the Red Cross appeal, Mr Johnson also said the Prime Minister will be making a further announcement on Wednesday.