Britain's "strong" labour market has seen employment jump to record levels despite households feeling the pinch as wage growth lags behind inflation.
The Office for National Statistics (ONS) said the number of people in work reached another all-time high, climbing by 181,000 to 32.13 million between May and July.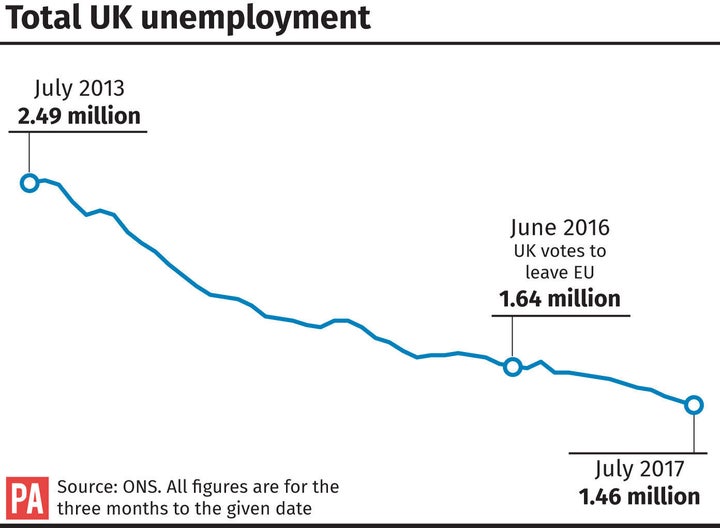 The employment rate also rose by 0.5% to a record high of 75.3% on the quarter.
However, annual growth in earnings remained static at 2.1%, both including and excluding bonuses over the period.
Once inflation is taken into account, total and regular pay both slipped by 0.4%.
It comes as official inflation data published on Tuesday showed the pay squeeze on cash-strapped households had intensified, with the cost of living rebounding to 2.9% in August, from 2.6% in both June and July.
Matt Hughes, senior ONS statistician, said: "Another record high employment rate and record low inactivity rate suggest the labour market continues to be strong.
"In particular, the number of people aged 16 to 64 not in the labour force because they are looking after family or home is the lowest since records began, at less than 2.1 million.
"Despite earnings rising by 2.1% in cash terms over the last year, the real value of people's earnings is down 0.4%."
The jobs market continued to shine for the UK economy, with unemployment tumbling by 75,000 to a 12-year low of 1.46 million between May and July.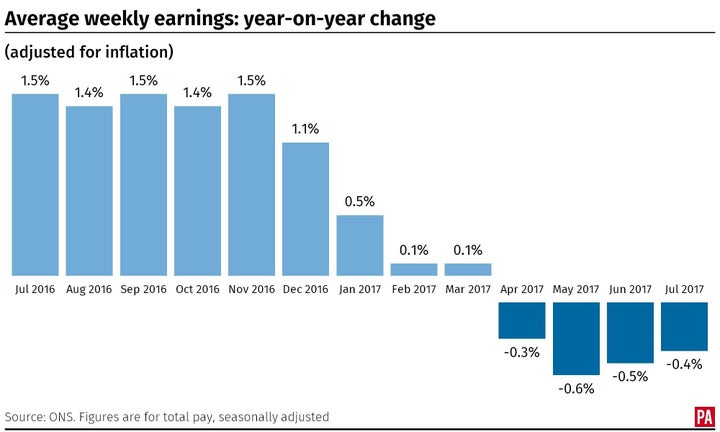 The year-on-year change in average weekly earnings, from July 2016 to July 2017. PA graphics
The unemployment rate dropped over the period, easing back by 0.2% to 4.3% – the lowest level since 1975.
Focusing on economic inactivity, the rate hit a record low by falling 0.3% over the quarter to 21.2%.
Meanwhile, the so-called claimant count dropped by 2,800 to 806,300 last month.