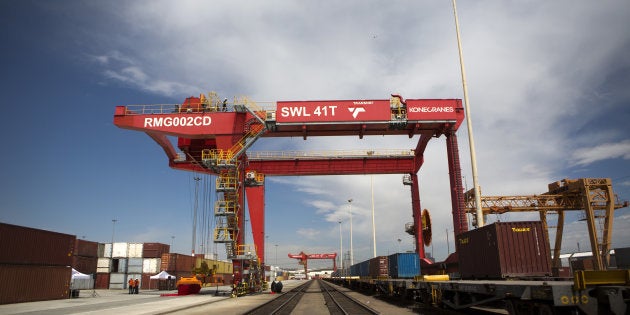 A Chinese company reportedly paid off the Guptas to ensure that it received a massive Transnet tender, to deliver cranes that the state-owned entity reportedly did not need.
Amabhungane and Scorpio reported on Monday that the Chinese crane manufacturer, Shanghai Zhenhua Heavy Industries (ZPMC), signed a kickback agreement with a Gupta-linked entity in Dubai called JJ Trading (JJT).
The price of the cranes was reportedly inflated from R570 million to R650 million to make room for "commissions and fees".
JJT stood to make R84 million for ensuring that ZPMC got the contract.
A crane expert told amaBhungane and Scorpio that this was "the most expensive crane sale of its type ever recorded".
ZPMC denied the allegations, adding: "We have no business or other relationship with the Guptas, your President Jacob Zuma or his family."
Brian Molefe, then-Transnet CEO, told amaBhungane and Scorpio that Transnet needed to buy cranes as many shipping companies had complained about the state of the state-owned entity's cranes.
A port insider reportedly alleged that those working for the Guptas then lobbied behind the scenes, changing the specifications of the tender to suit certain bidders and increasing the number of cranes.
The #GuptaLeaks reportedly show that a senior Gupta manager emailed a person linked to JJT a confidential document that outlined the upcoming tender.
The document was reportedly drafted by a Transnet employee.
A Transnet spokesperson denied any wrongdoing.
The "kickback" agreement was reportedly between a ZPMC employee and a JJT representative. The agreement reportedly describes the tender and says that JJT has agreed to "assist ZPMC as an agent to facilitate this bid".