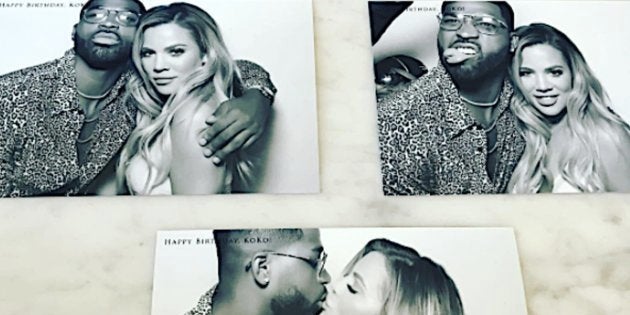 If you're trying to keep up with the Kardashians, buckle up for a wild ride.
Multiple media outlets are reporting that Khloe Kardashian, 33, is expecting her first child with her NBA star boyfriend, Tristan Thompson.
Representatives of Kardashian and Thompson did not respond to HuffPost's request for confirmation, but BuzzFeed News, TMZ, E! Entertainment and US Weekly have cited anonymous sources who say that Kardashian is pregnant.
According to TMZ's report, the Good American designer conceived naturally with Thompson, a 26-year-old Cleveland Cavaliers player, adding that Kardashian is three months pregnant.
Reports of Khloe's pregnancy are the latest addition to the Kardashian baby rumor mill.
Days earlier, anonymously sourced reports claimed that 20-year-old Kylie Jenner, Khloe's younger half-sister, was pregnant with rapper Travis Scott's child.
There are also reports that Kim Kardashian and husband Kanye West are expecting a third child via a surrogate, though the Kardashian-West family has not officially addressed those reports.
Khloe and her beau first stoked pregnancy rumors earlier this month when the "Keeping Up With the Kardashians" star shared photos of the couple on Snapchat after her 33rd birthday, according to Life & Style Magazine.
One of the photos was labeled "Dad + Mom" and featured Khloe placing her hands near Thompson's mouth. Sources close to the couple later told TMZ that "Dad" and "Mom" references are just nicknames the two have given each other.
Khloe and Thompson have been dating for a year, and, according to the Kardashian's Snapchat videos, they appear to be very in love.