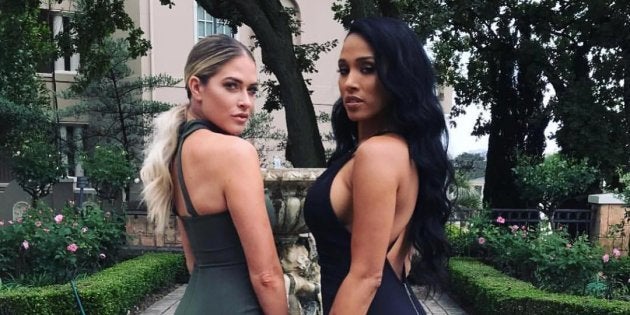 American reality TV stars Barbie Blank and Sasha Gates say South Africa is the most hospitable country they have been to.
The pair, who star in "WAGS LA" (Wives And Girlfriends of professional athletes) recently spent a week in the country to promote the show ahead of its third season premiere on November 6.
They spoke to HuffPost SA about the show, their love for Nelson Mandela and constantly being in the public eye.
"The people here are genuine and very warm and friendly. I could live here forever," Gates said.
Blank said people watching the upcoming season will see her go through her first year of marriage.
"People watched me get married in season 2. This season they will see me go through the ups and downs of marriage in my first year. We also have three new girls this season which will be very interesting to watch how we all gel and exist together as WAGS," Blanks said.
Gates, who is a mother of two, said contrary to perceptions that WAGS just kick their feet up and drink champagne: "We are actually independent career women with so much to offer. We don't just follow our husbands around. Also, we all get along, although not all the time, so there's drama," Gates added.
Asked where they draw the line as far as details of their lives are concerned, both stars agreed that there's no line.
"It's real reality all the way. Over time you forget the cameras are there. At the beginning, it was scary to open up your door and let the whole world in, but now we're in our third season and things just come out naturally. Also, it's really hard to hide when you have cameras on you all the time. You say something and you can't take it back," Gates said.
Blank said: "It's what you sign up for when you sign up for reality TV. You open up your life for the world to see so it's hard to hide anything. So you just go with the flow and whatever is going on in your life the fans are going to see -- the good and the bad, you just have to roll with it."
But Blank yesterday confirmed her split from her husband, Canadian ice hockey star Sheldon Souray, exclusively to Us Weekly -- what will this mean for Season 4?
The highlights of their South African trip?
The duo spent time in Johannesburg and Cape Town and saw the Nelson Mandela Museum, the lion safari and Table Mountain which had been on their bucket list for a long time.
The show premieres in South Africa on November 6 at 8pm on E! DStv channel 124.