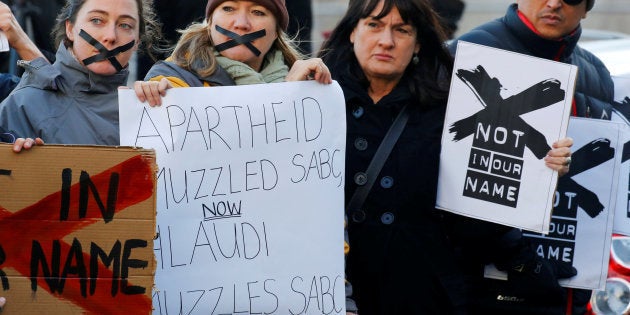 The Presidency says it is concerned about an open letter by the SABC 8, in which the journalists raise concerns about senior SABC staff meeting with the presidency, News24 reported. The SABC 8 warned of a project to capture the SABC.
The SABC 8 reportedly said they were concerned that the meeting created a perception of bias.
The meeting, between presidency spokesman Bongani Ngqulunga and senior SABC staff, reportedly took place at the request of the SABC.
"...we call on our head to exercise more circumspection in the future and to protect the newsroom from perceptions of bias..." the SABC 8 said.
But the Presidency reportedly said there was nothing wrong with the meeting.
It also said it was concerned that those SABC journalists who saw nothing wrong with the meeting would be intimidated.
"We trust that the journalists at the economics desk, for example, who report to one of the members of the SABC 8, will not feel duty-bound to avoid speaking to the Presidency or to cover the Presidency in deference to the public position taken by their supervisor,' the Presidency said.
On Tuesday, Parliament's portfolio committee on communications said it would call the SABC 8 to appear before it to address their concerns, Independent Online (IOL) reported.
The SABC 8 also raised concerns about communications minister Ayanda Dlodlo overstepping her powers, by interfering with editorial policies.
But Dlodlo denied this, saying she was not involved in the public broadcaster's operations. According to The Citizen, Dlodlo told reporters: "It's not true that I have meddled in operational issues. For instance, on the issues related to the CEO, COO, and CFO it's my prerogative... I have a duty to ensure that the best possible people are on board... If you look at the funding request that we have. Ultimately, whoever would want to fund the SABC would want to make sure we have the right people on board."