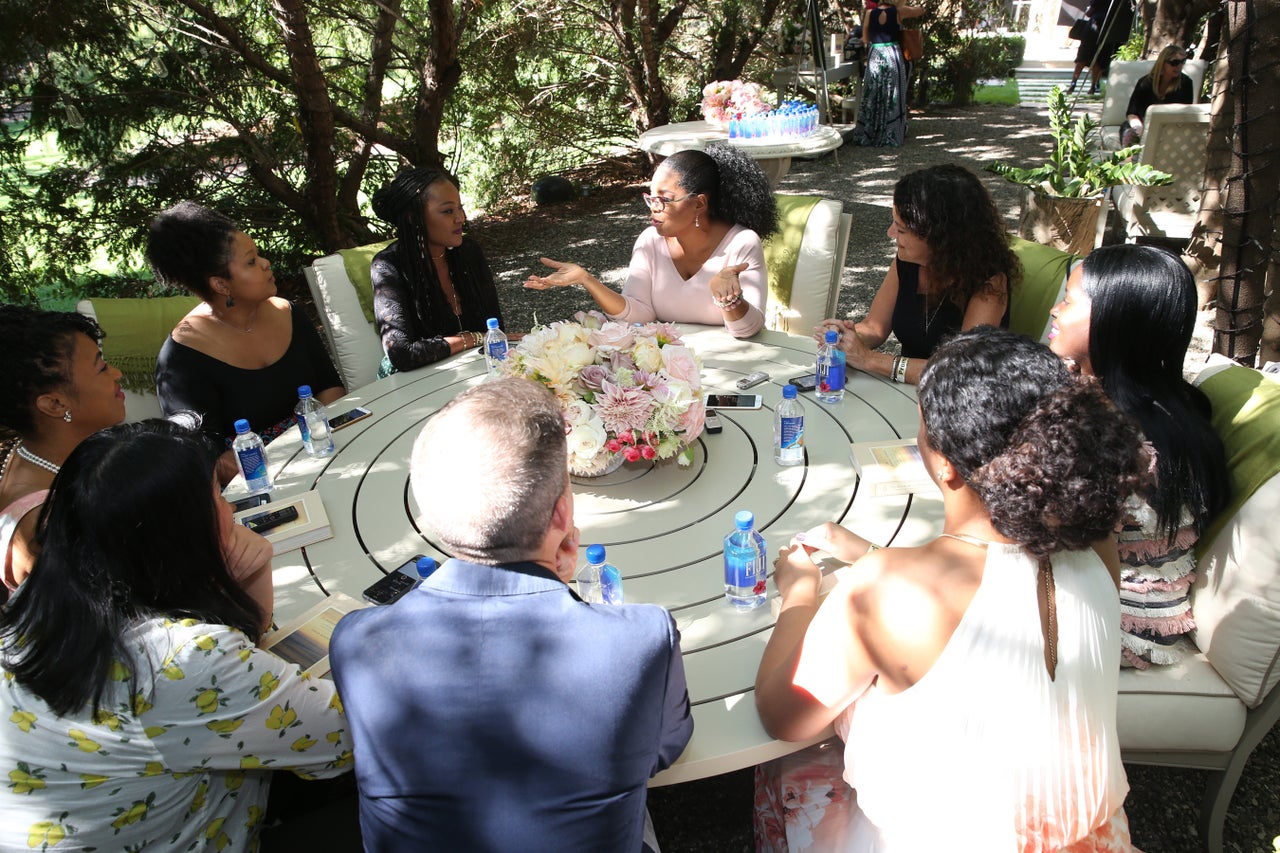 "I don't do this ever, hardly."
These were the first words from Oprah as she sat down at a roundtable with reporters on Sunday at her lavish 65-acre Santa Barbara estate. The moment did indeed mark a rare occasion ― it was the beginning of a special brunch and gospel celebration Oprah decided to host at her home to commemorate the release of her latest book, The Wisdom of Sundays.
As massive and well-suited as Oprah's California home may be for welcoming guests, it has been years since she invited a mass group of people over. The last time Oprah said she hosted an event at her estate was for the legends ball that was televised in 2015; the time before that was in 2005 for the same event. And now she was doing it for her new book.
"I feel that it's a celebration and so whenever I really, really believe that something is going to be impactful, I try to put everything I have into making that possible," Oprah told reporters that morning in a "secret garden" tucked away near a beautiful guest house deep into the grounds. "So inviting people into my home, which I don't do, is what I decided to do."
The Wisdom of Sundays, which was released Tuesday, is a collection of some of the most memorable and moving conversations Oprah has had over the years with the more than 200 thought leaders she has featured on her "Super Soul Sunday" show, including Janet Mock, Deepak Chopra and Tony Robbins. The book serves as a guide for readers to explore their own lives and spiritual experiences by providing 10 chapters on everything from how to feel awakened to finding true fulfillment.
To mark the occasion, Oprah invited more than 300 celebrity guests ― including Ava DuVernay, Sterling K. Brown, Angela Bassett, Kerry Washington, Reese Witherspoon and Lin-Manuel Miranda ― to her home for Sunday brunch and to watch a gospel performance led by Bebe Winans at her outdoor amphitheater. As the ceremony began, Oprah walked onstage to deliver a special greeting.
"It's not often I open this space," Oprah said, basking in the sunlight while urging attendees to "be present" with her during what she described as a spiritual moment. She expressed her gratitude for such a special gathering and recognized the late Dr. Martin Luther King Jr., whose legacy inspired the name of her home.
"I welcome you here to the Promised Land," she declared.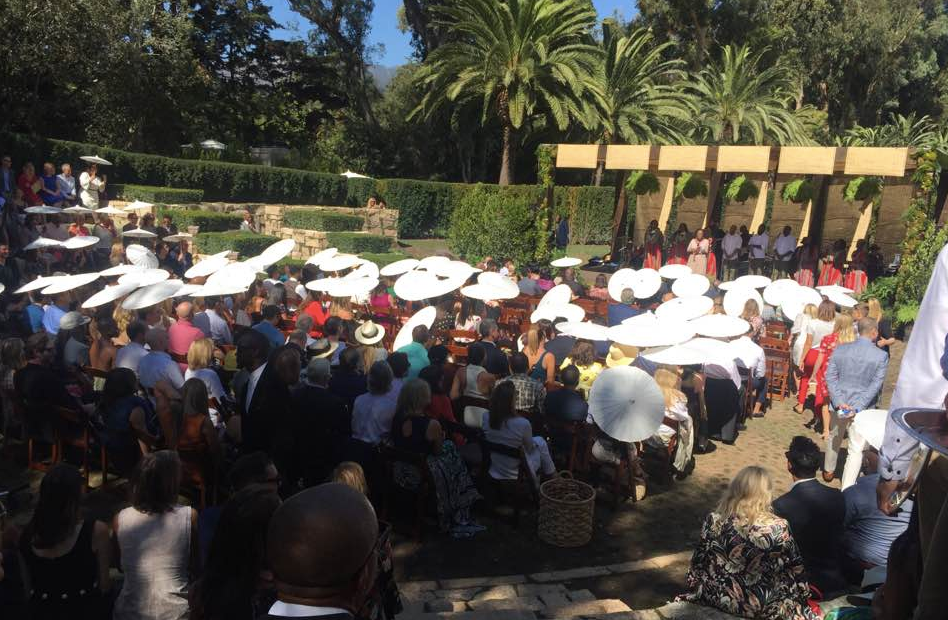 The breeze gently blows throughout the property on this Sunday morning; the air is crisp and the flowers are in full bloom. This is where Oprah "feels the presence of God, and the connection to All," she writes in her book. Morning walks across the acres with her dogs bring her delight and even serve as a "form of prayer," she explains.
It is this, a sincere appreciation of nature's glory, that brings Oprah most joy. This also explains why every "Super Soul Sunday" conversation has been taped on the grounds of her home. Guests, who range from Shonda Rhimes to Arianna Huffington, have each had a seat at a table with Oprah, where they lay bare the most insightful lessons from their life's work.
On Sunday, it was Oprah's turn to share. Reporters gathered at the roundtable before the day's festivities, with Oprah dropping nuggets of wisdom she's learned in life, particularly through the creation of the book and her conversations with those featured in it. We listened intently as her voice blanketed the air, explaining how people could embrace the book's theme of how to "expand their vision of who they really are and all they can be."
I'm always trying to get people to see the way into the best of themselves."Oprah
During the discussion, one reporter reminded Oprah of a message she delivered at the Essence Festival last year, when she recalled how an old mentor of hers once had six trees on her property and how she, at the time, aspired to one day own a home with six trees, too. Today, more than 3,000 trees tower the front lawn of Oprah's home, as polished yards and paved roads wrap around meticulously kept secret nooks and the rose garden where she does most of her reading.
"First of all, I know that I did not get here by myself," Oprah said when asked to reflect on her journey from her grandmother's shotgun home in rural Mississippi to her mansion in Montecito, California. "I paid a lot of money for this property but every single day I can tell you I look at it as a gift. There's not a day that I wake up that I don't have a sense of appreciation and gratitude for it. When you live in a space of gratitude, you get to see more."
This lesson on gratitude is just one of the many key takeaways Oprah hopes readers receive from The Wisdom of Sundays. The book includes insight from Oprah and spiritual teachers on how to overcome barriers to live an abundant life ― and who better to learn from than a woman whose journey and calling exemplifies this best.
"In my heart, at my core, I am a teacher," Oprah said. "I realize now that thing I wanted to be when I was in the fourth grade has really come to its fullest fruition because I do it now through storytelling. And whether it's with 'Super Soul Sunday' guests, this book, the [O] magazine, or 'Queen Sugar,' I'm always trying to get people to see the way into the best of themselves ... It's why I'm here."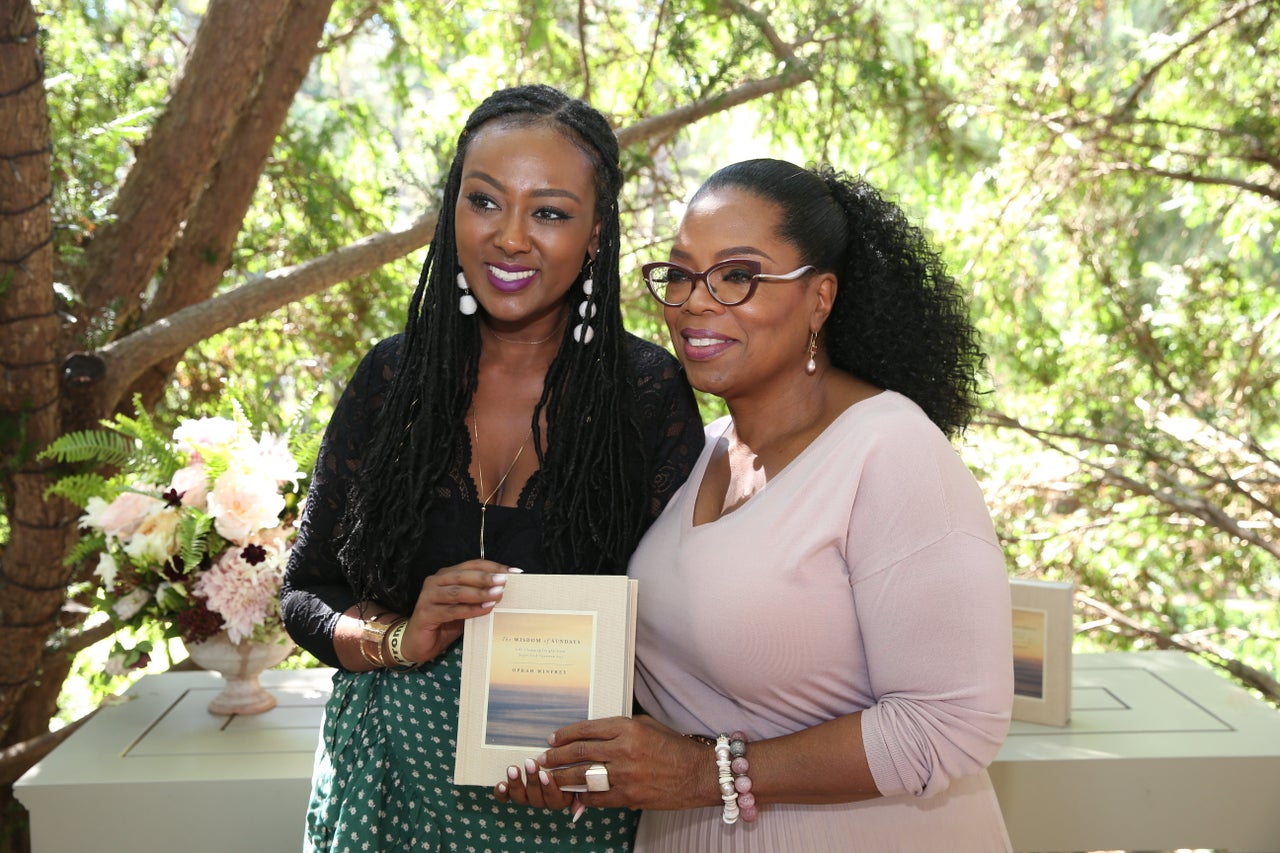 The book's release comes at a time when America's political and social landscape is filled with news of despair. But rather than succumb to negativity, Oprah opts to recognize our current times as a "big moment" that, if embraced effectively, can provide an opportunity to reevaluate our individual and collective actions and lead us to make changes for the better.
"Everybody talks about 'stay woke'; this is how you get woke," she said in reference to the book. "You've got to wake up for yourself first. There needs to be an awakening ... You need to wake up every morning with a sense of grace and gratitude. You need to take care of yourself first."
While understanding the role hate and strife can play in daily life, Oprah believes everyone has the ability to be the best version of themselves and take actions that can lead to positive outcomes.
"This moment about getting awakened is about rising to the personal best of what you have to offer. So if you see injustice, that means you should stand up against it," she said. "Yes, you must resist but we must resist higher. It's like when Michelle Obama says, 'When they go low, we go high.' The reason you have to go high is because when you meet them at the low you become them. You have to have an inner regard for peace that you are ultimately looking for the highest vibration of good from yourself so that you can overcome that darkness."
Everybody talks about 'stay woke'; this is how you get woke.Oprah
Developing this sense of wisdom is something Oprah says she was only able to do once she truly adopted one key principle that she says has helped guide her to success in many ways: it was understanding that "intention rules every outcome," she writes in the book. "Thought by thought, choice by choice, we are cocreating our lives based on the energy of our intention."
In fact, if it weren't for the power of intention, the Oprah Winfrey Network would never have existed and "The Oprah Winfrey Show" likely wouldn't have achieved a 25-year run, Oprah said.
"I live a very elevated life but I live a big, elevated, purposeful life because I've been on my way to it for a very long time," Oprah said. "I didn't just wake up and get it."
"[I'm here] because I have done the thing that I am trying to encourage people through every passage of this book to do. I have done the work and the real work is being obedient," she added. "Especially as women, people are taught to tone it down, to not listen to [your inner voice], to muffle it and to believe that other people's opinions are more important and valuable than our own. You're taught to hear what other people have to say about us instead of hearing what your inner voice is telling you about you."
Oprah hopes her new book is released into the world in a way where "people actually feel the spirit of it" ― and Sunday's event kicked things off the right way. Celebrity guests, dressed in their Sunday best, packed into the amphitheater to watch Bebe Winans bring the house down alongside gospel singers Erica Campbell and Yolanda Adams. Singer Andra Day and rapper Common also performed as guests like Tina Lawson, Gayle King and Bozoma Saint John stood to their feet and held their hands high in praise.
The performance was followed by an outdoor brunch, where guests were free to roam. T.D. Jakes said a prayer to bless the food, Ava DuVernay recorded Instagram videos with Usher and Angela Bassett, Reese Witherspoon personally congratulated performers for a remarkable show and Janet Mock mingled with Mara Brock Akil and Niecy Nash, surrounded by endless helpings of scrumptious food and drinks.
The experience was enchanting, and if what we witnessed from having a seat at Oprah's table on Sunday is any indication, there's no doubt she has yet again accomplished what she intended to do. There we were, eight of us gathered around a table in Oprah's secret garden, discussing her journey while learning to further appreciate our own.
"I know part of why I came to this planet is to deliver this message: You are enough, and as you delve deeper into the you that is enough, you will have and lead the richest, most open, fulfilled life for yourself," she added. "It's not my journey, it's yours."
Check out more photos from the special celebration in the slideshow below.