Five companies have been shortlisted to build 225mph trains for HS2.
Rail minister Paul Maynard said the £2.75 billion contract will create "thousands of skilled British jobs and apprenticeships".
The companies vying for the right to design, build and maintain at least 54 new high-speed trains are Alstom Transport, Bombardier Transportation UK, Hitachi Rail Europe, Patentes Talgo and Siemens.
The award of train-building contracts to foreign firms with overseas manufacturing plants has been criticised in recent years.
In 2011, Germany-based Siemens was handed a £1.6 billion deal to build trains for London's Thameslink, and last year Spanish company CAF won a £490 million contract to manufacture trains for Arriva Rail North.
Some of the entries shortlisted by HS2 Ltd already have UK production lines.
Hitachi's manufacturing plant in Newton Aycliffe, County Durham, is building more than 100 Intercity Express trains for the Great Western and East Coast lines over the next three years.
Earlier this year Derby's Bombardier secured a multimillion-pound investment to build 90 new trains for South Western Railway services.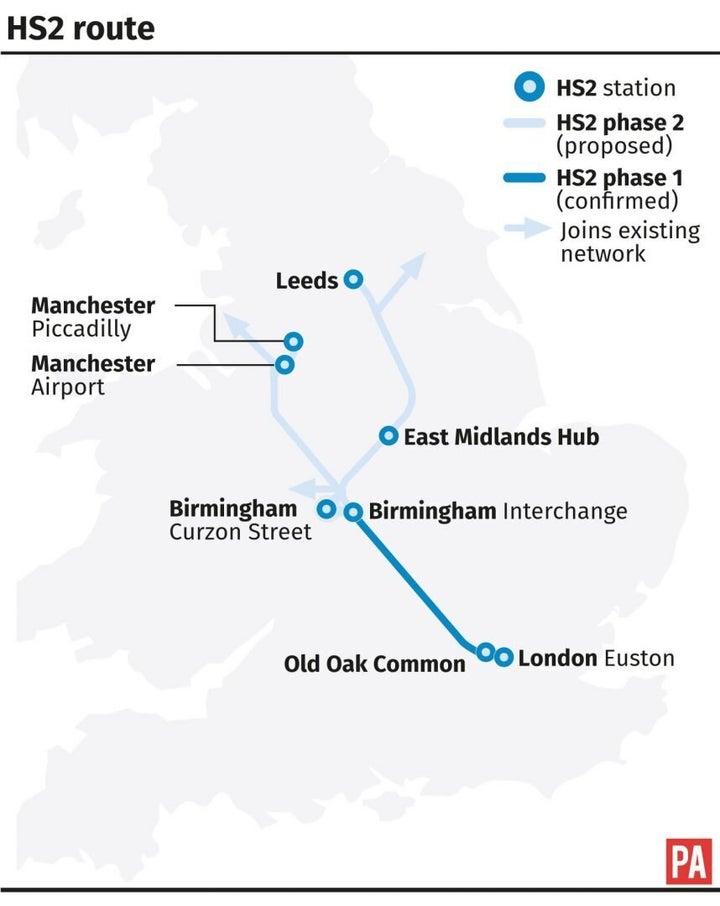 Alstom is developing its new train technology and manufacturing facility in Widnes, Cheshire.
Spanish manufacturer Talgo last month unveiled a plan to build a factory in the UK and has already visited potential locations in Leeds and Liverpool.
Phase 1 of the £55.7 billion high-speed railway will open between London and Birmingham in December 2026.
The new trains will also serve destinations on conventional lines beyond the core HS2 network, including York, Newcastle, Liverpool, Glasgow and Edinburgh.
They will be expected to meet the highest international standards for noise reduction and environmental sustainability.
Mr Maynard said: "HS2 will see some of the world's fastest trains connecting our great cities across the North and Midlands, creating an economy that works for everyone. But announcements like this show how the benefits of HS2 will resonate far beyond the opening of the new railway. HS2's legacy of jobs and skills is already being created."
The contract is expected to be awarded in late 2019.